More than 300 schools have already signed up to participate in the 2018 Brake's 'Kids Walk', organised to promote road safety and the health benefits of walking.
Previously known as Brake's Giant Walk, the 2018 event takes place on 13 June and aims to educate children about the potential dangers they face on their journey to school.
More than 50,000 children aged 4-11 years are once again expected to take part in the event, which is sponsored by Co-op Insurance.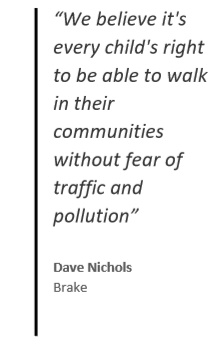 The centerpiece of the day is a supervised walk at each educational establishment, which usually takes place at or around the school. Brake suggests that children walk in a crocodile formation, holding hands, to 'promote the importance of being able to walk without fear or threat from traffic'.
Brake is urging schools to use Kids Walk as a focal point for road safety lessons and is providing resources, advice and guidance to help teachers plan lessons around their school's walk.
The road safety charity is also focussing on the number '5', saying that five factors – footpaths, cycle paths, safe places to cross, slow traffic and clean traffic – are key to stopping the five children being killed or injured on roads each day.
Dave Nichols, community engagement manager at Brake, said: "Brake is passionate about the safety and welfare of children. We believe it's every child's right to be able to walk in their communities without fear of traffic and pollution.
"But to do this, we need to make sure their journeys are safe. This is why we're already working with thousands of children to give them and their school a voice, and I would encourage any school to join this project and help get these important messages out to grown-ups."
For more information, contact Brake via email or on 01484 550061.
---