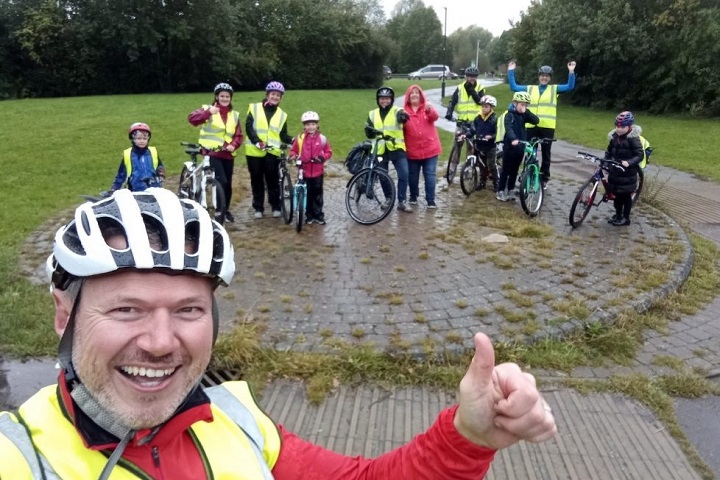 Cycling coach Simon Storey has set up a 'Bicycle Bus' to encourage pupils to cycle to three schools in the town of Whitnash in south Warwickshire.
A Bicycle Bus is when a lead cyclist picks up children and parents at predetermined points along a planned route and the group then cycles to school together.
The scheme started during the first lockdown in 2020 after Simon Storey attended a webinar hosted by British Cycling, showing how to start a Bicycle Bus – and thought it was something he could try at his daughter's school.
The Bicycle Bus is now servicing three local schools in Whitnash – St Joseph's Catholic Primary, Briar Hill Infant and St Margaret's C of E Junior – and is getting lots of supportive comments from local residents.
Simon, a father of four and British cycling coach, decided to start the Bicycle Bus after learning that more than half of all car journeys are under five miles, and nearly 50% of school run journeys are taken by car – with fewer than 2% of children cycling to school.
Simon Storey said: "Since the Bicycle Bus started there have been 25 trips with between 10 and 16 people regularly on the Bus – many of whom have ditched their car to do so.
"We are taking cars off the road and making it easier and safer to ride, helping to improve air quality around schools and reduce dangerous and inconsiderate parking, and improving families' physical and mental health.
"We wear hi-viz vests and ride in a safe and controlled manner and are very grateful to Warwickshire Road Safety Partnership for providing free road safety items including hi vis vests, hi vis straps, and cycle lights."
Kate Castle, senior road safety officer at Warwickshire County Council, said: "One of our road safety education team's priorities is to promote and raise awareness of the benefits of safe and active travel across Warwickshire.
"We work with several schools to support and encourage parents and carers to leave the car at home and travel actively for the journey to and from school.
"It is great to see the local community, families and schools taking a positive and encouraging approach to active travel. Travelling actively to school will help reduce traffic and congestion, improve air quality, and improve the physical health and well-being of all involved."
Contact Simon Storey by email for more information about the Bicycle Bus concept.
---