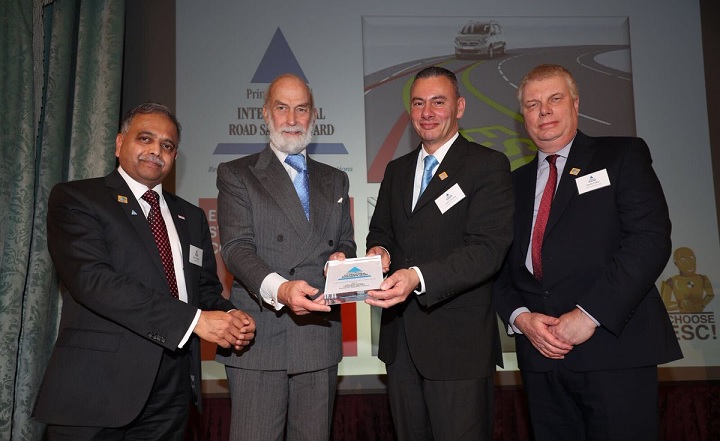 Bosch Global has picked up the top accolade at the 2017 Prince Michael International Road Safety Awards' ceremony, in recognition of its electronic stability control (ESC) technology.
Announced today (12 Dec) at the annual awards luncheon at the Savoy in London, this is the first time the Premier Award has been presented to a 'life saving technology'.
Presenting the award, Prince Michael of Kent described ESC as the 'most significant advance in vehicle safety since the seatbelt'.
The award was collected by representatives of Bosch Global (pictured).
ESC is a computerised technology that improves a vehicle's stability by detecting and reducing loss of traction. When ESC detects loss of steering control, it automatically applies the brakes to help 'steer' the vehicle where the driver intends to go.
Braking is automatically applied to wheels individually; for example the outer front wheel to counter oversteer, or the inner rear wheel to counter understeer. Some ESC systems also reduce engine power until control is regained.
The first commercial ESC system was first introduced by Bosch in 1995 on the Mercedes-Benz S 600 Coupé. Global NCAP estimates that since then at least 188,500 crashes (which would have resulted in injury) have been avoided, and more than 6,100 lives have been saved – thanks to ESC.
ESC has been mandatory in all new cars built in the EU since November 2014.
The Premier Award is the highlight of the Prince Michael International Road Safety Awards, which recognise outstanding achievement and innovation worldwide with the most outstanding examples of international road safety initiatives given public recognition through the scheme.
Winners are notified in advance and celebrated at the annual awards' luncheon with the recipient of the Premier Award announced on the day.
The Prince Michael Awards' scheme is celebrating its 30th anniversary this year.
---