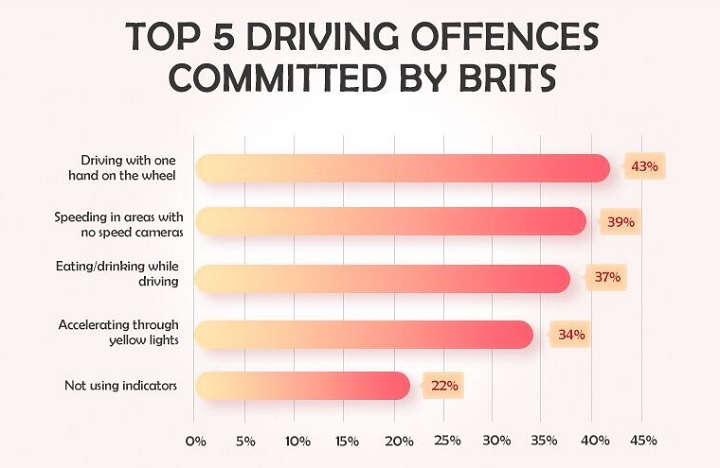 Nearly four in 10 UK drivers admit to speeding in areas where there are no speed cameras, a new survey suggests.
Carried out by Select Car Leasing, the survey of 1,200 drivers set out to understand  attitudes and behaviours relating to driving and safety.
While 98% of respondents claimed to be 'safe drivers', 39% admitted to speeding in areas with no speed cameras.
43% admitted to driving with just one hand on the wheel, 37% to eating or drinking while driving, 34% to accelerating through amber lights and 22% to not using indicators.
In terms of mobile phones, 14% of respondents admitted to checking their device for messages while driving, 5% to texting and 5% to reading emails/accessing the internet.
Mark Tongue, director of Select Car Leasing, said: "Whilst most people are safe drivers, it's  clear from the driving habit data that many people are not as safe."
The survey also suggests that the public view a broad range of new safety technology as important features on new vehicles.
56% of respondents said they wanted tyre pressure monitors on a new vehicle, 56% blind spot monitoring, 43% slippery surface detection, 41% forward collision warning and 39% autonomous emergency braking.
Mark Tongue said: "The new safety features and technologies being introduced by major manufacturers in 2018 are considerable and will undoubtedly help to reduce injuries and  fatalities across UK roads.
"We are finding that so many more people are now choosing to lease a car rather than buy because it gives them access to the latest safety and technology features.
"Ultimately this means more people in newer safer cars, which can only benefit everyone on the roads."
---