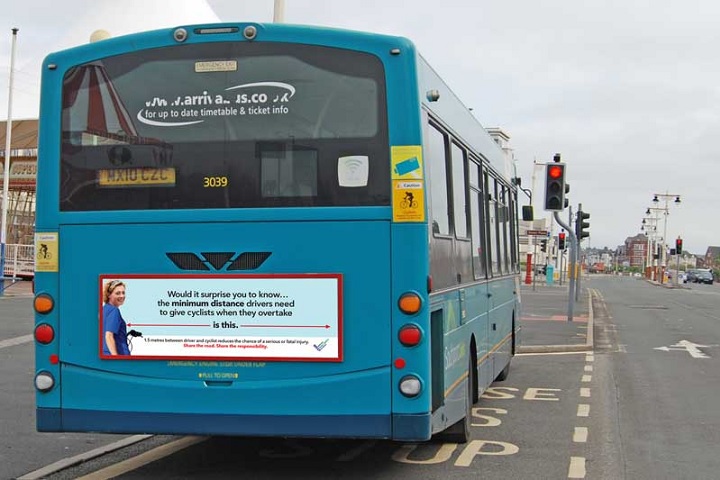 The Merseyside Road Safety Partnership has launched a new campaign to help drivers understand the space they should leave when overtaking a cyclist.
Statistics show 87 cyclists were killed or seriously injured in Merseyside during 2019 – 10% more than the previous year.
The Merseyside Road Safety Partnership (MRSP) says 2020 looks set to see another increase – although the official figures can't be released until they are validated by the DfT.
To combat the rise, the MRSP is working with Arriva and Stagecoach – whose buses are displaying adverts showing the actual 1.5 metre width required by law to overtake a cyclist.
Inspector Carl McNulty, Merseyside Roads Policing Unit, said: "We know that there's an increased volume of cyclists on the road now. A lot of drivers in Merseyside are incredibly considerate and mindful of this, but some are struggling to adapt. 
"That's why we encourage cyclists to submit footage of closes passes or near misses to Merseyside Police via our website. 
"Often drivers don't realise just how much space cyclists need to be given on the road, or what that amount of space looks like."
The MRSP is also promoting the message across its social media platforms – along with a warning for drivers not to park in cycle lanes.
Sarah English, the Safer Roads Unit coordinator, said: "We know that more people than ever have taken up cycling over the lockdowns – which is wonderful. 
"We're still seeing people parking on cycle lanes and paths though, or parking in such a way that cyclists have to go further out into the road, and often that's when these close passes happen. 
"Drivers need to be able to give cyclists the full 1.5m of space – but they can't if people have parked obstructively."
---