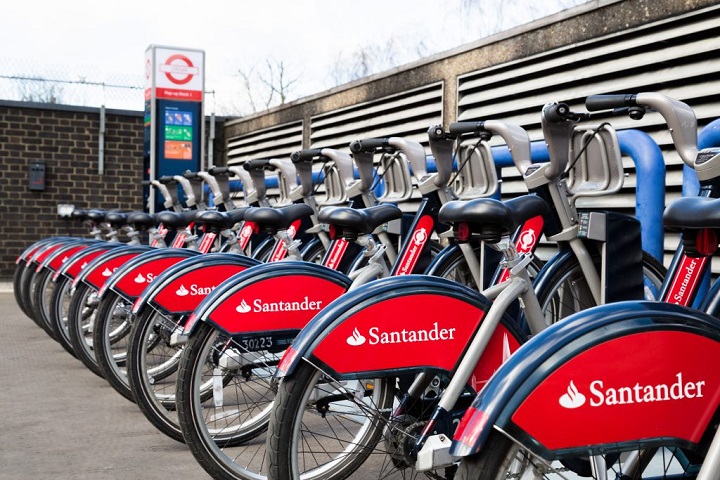 Transport for London says its cycle hire scheme has been at the forefront of a cycling boom over the last decade, contributing to the largest increase in cycling in the Capital since records began.
On 30 July 2010, Transport for London (TfL) introduced a cycle hire scheme with 350 docking stations across eight London boroughs. In the first 12 months of the scheme, 6.2 million hires were made.
Since becoming Santander Cycles in May 2015, the scheme has continued to go from strength-to-strength.
Today, there are 781 docking stations and more than 12,000 bikes available – and in 2018, more than 10.5m journeys were made using Santander Cycles in a calendar year for the first time. 
Sadiq Khan, mayor of London, said: "London's cycle hire initiative has been a fantastic success story and over the past decade we have seen this flagship scheme go from strength-to-strength.
"We are delighted that this summer there has been record-breaking demand for our Santander Cycles and we are capitalising on this by adding new docking stations, cycle hire hubs and bikes, which will make it even more convenient for Londoners to take to two wheels."
Keeping London moving during the Covid-19 pandemic
TfL says that during the Covid-19 pandemic, the scheme has played an 'even more critical role' by keeping London moving.
More than 85,000 new members have signed up to the scheme since March – a 200% increase on the same period last year – contributing to more than 2.3m hires throughout May and June.
Previously, the scheme had never surpassed more than 50,000 hires on a normal workday, a record that has now been broken 13 times over the last seven weeks. Santander Cycles saw its busiest ever week with 363,000 hires between 25-31 May.
Helen Sharp, TfL's head of cycle hire business development, said: "Ten years ago we launched the cycle hire scheme. Today, our Santander Cycles are as familiar a sight on our streets as a black cab or a roundel, embraced by Londoners and visitors to our city alike.
"We're thrilled to celebrate ten years of our successful cycle hire scheme, which is helping us to achieve our vision for London becoming one of the world's best Capital cities for cycling.
"Cycling has grown enormously over the last decade and never more so than during this summer. There has never been a better time to cycle and we look forward to expanding our iconic Santander Cycles scheme in the months and years ahead."
Get around 'easily, safely and reliably' with TfL Go
Meanwhile, TfL has released a new app to make it easier for customers to plan ahead and travel safely.
The new iPhone app, TfL Go, provides real-time train times in a mobile-friendly way and information to enable travel at quieter times outside peak hours to help customers maintain social distancing. 
The app also offers alternative routes and walking and cycling options. These features will develop further based on customer feedback.
TfL intends to release an Android version in the autumn, with further updates later in the year. New features will include live bus information, lift status and the location of toilets.
Heidi Alexander, deputy mayor for transport, said: "London's transport network is central to life in our city and essential to our economic and social recovery from the pandemic.
"The rollout of TfL's new app will help Londoners by equipping them with the information they need to make safe travel choices, whether it be for work or for leisure."
---