A conference taking place in Wales next month will focus on how 20mph limits support health and wellbeing.
The ninth annual 20's Plenty conference takes place in Cardiff on 2 October, aiming to share evolving experience, research and best practice from authorities, professionals and academics who are 'making wide-area 20mph limits work'.
Jointly hosted by Cardiff City Council and the campaign group 20's Plenty for Us, the conference will consider how the newly devolved powers to set a national speed limit can be constructively used in the Welsh context to 'maximise roll-out effectiveness', yet 'retain local ability to set exceptions'.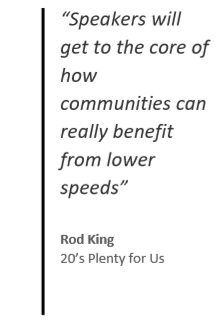 The event will also celebrate the lead taken by Cardiff Council in its city-wide roll-out of 20mph limits, showing how lower speed limits can 'bring particular benefits in public health and well-being both through direct casualty reduction and as a foundation for active travel'.
Speakers include Cllr Caro Wild from Cardiff Council, John Griffiths AM, David Melding AM, Mark Ruskell MSP, Dr Paul Butcher from Calderdale Council and Professor Alan Tapp from the University of West of England.
Rod King MBE, founder and campaign director for 20's Plenty for Us, said: "This conference builds on the developing global best practice view from WHO, OECD, etc that 20mph is the maximum safe speed where motor vehicles mix with people as pedestrians and cyclists.
"Speakers will get to the core of how communities can really benefit from lower speeds."
---