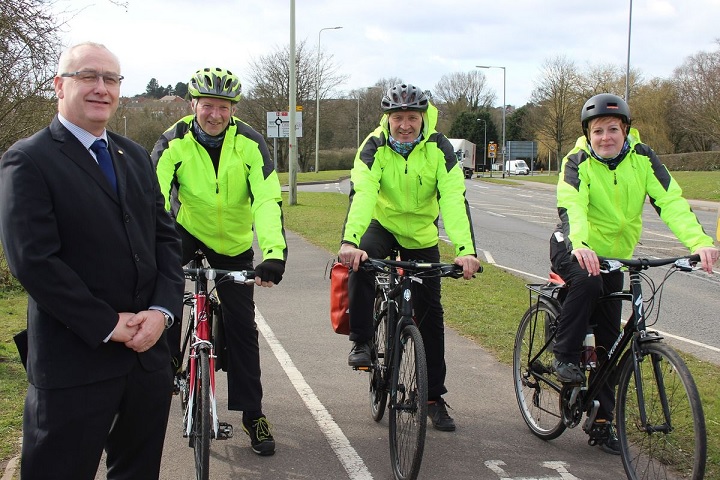 Cyclists and motorists in Staffordshire are being urged to be more courteous and to look out for each other as part of a new road safety campaign.
'Look Out' is the latest initiative from the Staffordshire Safer Roads Partnership (SSRP) to help reduce the number of collisions involving cyclists across Staffordshire and Stoke-on-Trent.
Drivers are being asked to look out for cyclists and allow extra time and space for them to manoeuvre safely, especially at roundabouts, junctions and when turning. 
The Highway Code states drivers should give cyclists as much room as they would do when overtaking a car. A minimum of 1.5 metres is considered a safe passing distance when overtaking a cyclist at 30mph.
Cyclists should also make sure both themselves and their bikes are prepared for each ride by using the correct lights and wearing bright or high-vis clothing to ensure they can be seen. 
They are also being encouraged to maximise their visibility by using the most appropriate lane position and making eye contact to check other road users have seen them.
The campaign includes a series of social media posts, tips and resources for drivers and cyclists – and people are being asked to share the content with friends, family and work colleagues.
David Williams, cabinet member for highways and transport at Staffordshire County Council, said: "Staffordshire has some of the safest roads in the country, which is a record we are extremely proud of and have worked hard to achieve.  
"With many more vehicles and cyclists now on our roads, it is important for everyone to be considerate and respectful of other road users whether that is on a bicycle or in a vehicle. 
"By being courteous and following the rules of the road we can all help to reduce the number of accidents and make our roads even safer."
---