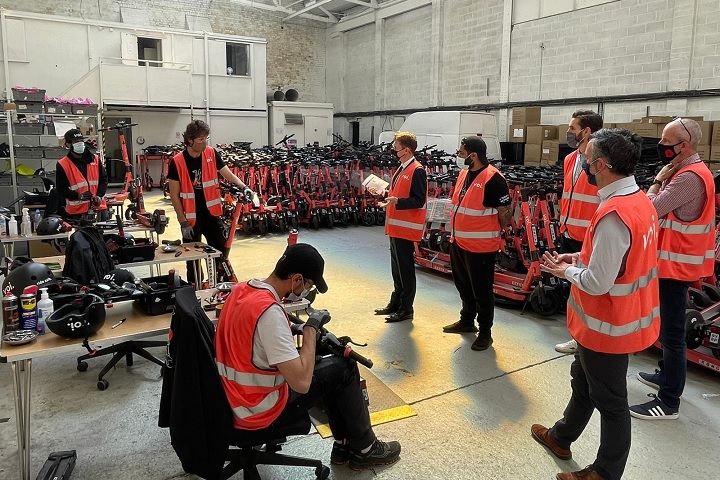 Almost a third of the 450,000 trips taken as part of Birmingham's rental e-scooter trial have replaced car journeys, a survey of riders suggests, helping to improve air quality in the city centre.
Launched in September 2020, the trial is being overseen by Transport for West Midlands (TfWM), in collaboration with Birmingham City Council.
It is designed to see how e-scooters could provide a green alternative to cars and public transport for shorter journeys and support action on climate change.
According to a new survey of trial participants, 31% of respondents said they would have otherwise used a car to complete their journey.
That equates to approximately 140,000 car journeys and an estimated reduction of 66 tonnes of carbon dioxide in Birmingham city centre.
The estimate is based on a carbon calculator built by Dr Manos Chaniotakis, lecturer in transport modelling and machine learning from University College London's MaaSLab.
The calculator considers a wide range of factors, including ride data, local car replacement rates and the UK Government's emission factors for cars and buses.
Andy Street, mayor of the West Midlands, said: "It is incredibly clear from this data that e-scooters are helping to cut out unnecessary car journeys, helping to tackle air pollution and the climate change emergency in the process.
"This is very encouraging, especially when you consider how popular this new form of transport is proving – with nearly half a million rides taken in Birmingham since the trial launched."
Free rides for NHS heroes & improved safety measures
The e-scooter trial is one of many being undertaken in towns and cities across the UK under DfT direction.
It is being operated by Voi, which runs e-scooter hire schemes in major cities all over Europe.
The central Birmingham trial zone includes both the QE and City Hospitals and under the 'Voi 4 Heroes' programme, NHS and emergency service workers have taken more than 54,000 free rides. 
Voi offers a variety of other discounts, including travel to and from vaccination centres, rides for students and users from low-income groups.
TfWM says Voi has also taken steps to improve safety and convenience following feedback from riders, local authorities and other road users.
Jack Samler, general manager at Voi UK and Ireland, said: "E-scooters have potential to reduce our daily reliance on cars and create cities that are healthier and better places to work and live.
"As the trial progresses, we are committed to amplifying the benefits of e-scooters whilst continuing to invest and work closely with our local partners in Birmingham to ensure everyone can benefit from this affordable, convenient and green way of travelling."
---