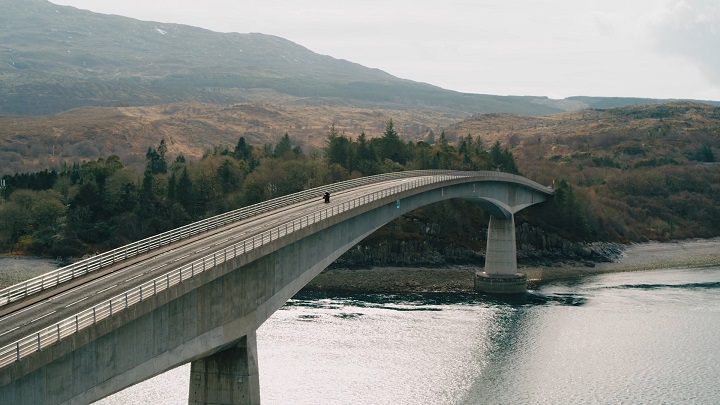 A motorcycle safety campaign is encouraging those exploring Scotland's roads to 'take your time to take it all in' this summer.
The Live Fast Die Old campaign, led by the Scottish Government and Road Safety Scotland, features a 'stunning' new film that highlights the thrill of riding while also reminding motorcyclists to enjoy the country's roads safely. 
Shot on the scenic Isle of Skye, the short film uses slo-mo footage to highlight the importance of considering the entire picture and every potential hazard before making the decision to overtake.
Jenny Gilruth, minister for transport, said: "We're seeing lots of bikers on the roads with many taking advantage of the longer days and enjoying the incredible scenery Scotland has to offer.
"The Live Fast Die Old campaign celebrates biking, but we know motorcyclists face significant risks on our roads and we want to ensure they practise safe riding habits – especially when overtaking and going round bends which can be particularly risky manoeuvres. 
"I'd urge any motorcyclists exploring Scotland's breathtaking roads this season to take their time, adjust their speed and consider their surroundings before overtaking. Enjoy the ride – but get home in one piece."
The film is the latest branch of the campaign's Breathtaking Roads series.
The Scottish Government says previous films in the series were popular with the nation's biking community and showcased stunning routes in coastal, forest and mountain regions of Scotland, while focusing on key manoeuvres such as overtaking, cornering and riding as a group.
The campaign will run across social media and digital channels, with posters displayed at key locations targeting motorcyclists across Scotland, including dealers, petrol stations, garages and cafes along Scotland's most popular biker routes.
The dedicated Live Fast Die Old website and Facebook page offer 'rich and engaging' content for motorcyclists, with films and blogs from Scottish bikers sharing their first-hand experience and tips with peers, as well as route inspiration and best practice advice. 
The launch of the new film also coincides with Police Scotland's motorcycle safety 
Supt Stewart Mackie, deputy head of road policing, is himself a biker. He said: "We speak to bikers and other road users all year round but as the better weather arrives, there is a real focus on motorbike safety and educating all drivers.
"Motorcyclists are more vulnerable than other road users. My plea to other riders is a straightforward one – get home safe."
---