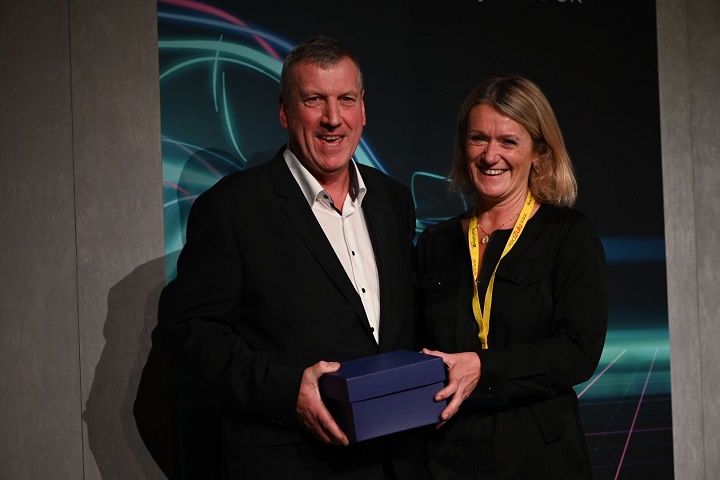 Bill Smith, senior engineer at Scotland TranServ, has been presented with the 2019 Lynda Chalker Award – recognising his 40 years' career in road safety.
The Lynda Chalker Award is presented annually by Road Safety GB to reward an individual or organisation that has contributed significantly to road safety in the UK.
Presenting the 2019 accolade on 12 November at the National Road Safety Conference in Telford, Liz Brooker MBE, chair of Road Safety GB, said it was a "thoroughly well-deserved award for a thoroughly nice man".
Liz Brooker said: "Bill Smith started working on major motorway projects back in the early 1980s.  
"He worked through the ranks to become an area road safety officer in Glasgow. He acted as a real link between education and engineering and was involved in the delivery of many pilot projects and initiatives.
"Bill led the team who developed the Kerbcraft training programme, initially in Castlemilk before being extended into Drumchapel, the area that had the highest incidence of child pedestrian casualties in Europe. 
"Kerbcraft was rolled out by the DfT to many areas, so thanks to Bill, some road safety professionals sitting here today may have started their road safety career as a Kerbcraft co-ordinator.
"He provided the first cycle helmet loan scheme for children taking their cycle training, while the 'Love seat' loan scheme he set up helped parents leaving Rutherglen maternity hospital take their new born babies home safely.
"In the mid 1990s, Bill became principal road safety officer at Glasgow City Council. He sat on many regional and national committees representing Glasgow –  including the LARSOA (now Road Safety GB) national committee, Scottish accident prevention council, PACTS and IRSO.
"His achievements include winning a Prince Michael International Road Safety Award for Danger Zone, an experiential learning centre. 
"Bill was also responsible for introducing CARS – a council accident reduction scheme designed to improve fleet safety in Glasgow, which was later named Brake Fleet Safety Scheme of the year.
"Despite being used to the cool wet weather of Glasgow, Bill was lured down to the bright lights of London to work with DBDA, a leading company in road safety communications and educational resources. 
"He then worked with Transport for London and the London Safety Camera Partnership – as well as many authorities as the liaison for the Children's Traffic Club.
"However Scotland won him back when he returned to work in the strategic road safety team at Scotland Transerv, delivering data led casualty reduction measures.
"He is also well known for his home baked cakes and expert advice on wine.
"A thoroughly well-deserved award for a thoroughly nice man."
---