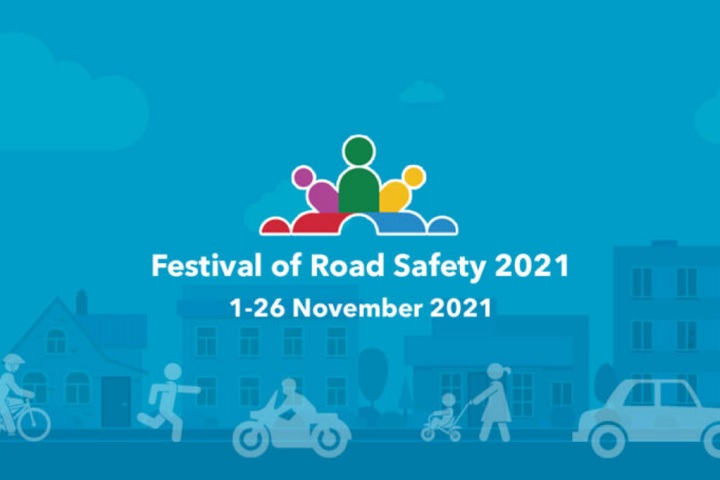 The 2021 Festival of Road Safety shows no sign of slowing down as it enters its fourth and final week.
The first three weeks of the Festival have seen 34 pieces of content published – with the event's website amassing more than 7,000 views since it began on 1 November.
The agenda for week four is once again varied – and comprises two keynote presentations from National Highways (formerly Highways England). 
The first kickstarts the week at 10am today (22 Nov) and looks at the road safety initiatives that National Highways has planned for the Strategic Road Network in the coming years.
The initiatives focus on areas such as sharing data with commercial vehicle operators to help improve fleet safety, sharing knowledge with truck and van drivers and post-crash support.
The presentation is delivered by Mark Cartwright, head of commercial vehicle incident prevention at National Highways.
Mark is also 50% of the organisation's second presentation of the week, titled 'Driving and riding safely for work', which will be published at 10am on Tuesday (23 Nov).
This presentation – which also features Simon Turner, campaign manager, Driving for Better Business – will focus on corporate responsibility in reducing risk on the roads. 
It will look at the challenges for employers in managing their driving for work activities, and answer what National Highways and their partners are doing to improve safety, efficiency, sustainability and compliance in work-related road risk.
Week four currently has three confirmed keynote presentations, with the third, titled 'Using telematics data to inform road safety practice', delivered by Dr Suzy Charman (Road Safety Foundation) and Sam Chapman (The Floow).
This presentation will describe a new project funded by the Road Safety Trust exploring how very granular telematics speed data can be used to inform road safety practices, from speed enforcement undertaken by the police and in partnership with local community groups, through to road safety engineering and education.
This presentation will be published at 12pm on Wednesday (24 Nov).
Sign-up now for live sessions
The final week of the Festival also features two live sessions – for which registration remains open.
Wednesday 24 November (10.00 – 11.00)
How road safety partnerships can fully embrace the Safe System approach and make it stick!
Tanya Fosdick (Agilysis) and Iain Temperton (Traject Road Safety Specialist) have worked with a number of road safety partnerships around the country, reviewing structure, strategy, delivery and evaluation regimes, whilst introducing international best practice concepts including Vision Zero and Safe Systems. Based on their experiences, this presentation will provide a unique insight into the current UK road safety landscape.
More info
Click here to register
Thursday 25 November (12.30 – 17.00)
SHARP 2025 roundtable: Advancing motorcycle helmet safety information for riders
The DfT's Safety Helmet Assessment and Rating Programme (SHARP) scheme provides PTW riders with information about the relative safety of their helmets. To ensure the SHARP scheme remains at the forefront of rider safety, the DfT has recognised the need to update the SHARP scheme with the latest advances in evidence-based research. This roundtable will provide attendees with an opportunity to learn about and deliberate on the evidence base behind the opportunities to update the SHARP test and rating protocols.
More info
Click here to register
Catch up on Weeks 1, 2 & 3
All of the content from the first three weeks is available to view free of charge on the Festival website. The programme for week 4 can also be found on the website.
The 2021 Festival of Road Safety is being organised by Road Safety GB and sponsored by Jenoptik. For more information contact either Nick Rawlings or Edward Seaman by email or on 01379 650112.
---