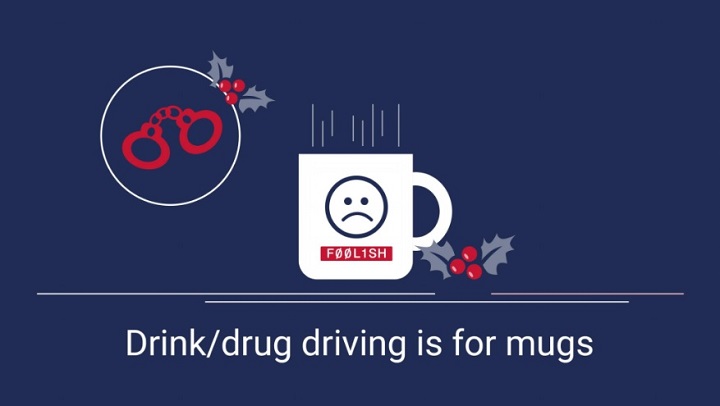 With the festive period on the horizon, a new campaign is reminding motorists in the North East of England to avoid drink and drugs before getting behind the wheel.
Launched today (30 Nov) at Stockton Riverside College, the Road Safety GB North Eastcampaign encourages drivers to either arrange transport home in advance of a night out, or volunteer to be the designated driver – and be mindful of the risk of 'morning after' drink driving.
Supported by emergency services across the region, the campaign has been launched on the back of figures which show that between 2012 and 2016, 38 people were killed on North East roads due to a suspected drink/drug driver, while 268 were seriously injured and 1,344 slightly injured.
The campaign is also supported by a family of a teenage girl who died while being driven by a drink and drug driver.
19-year-old Lucy Pinder, a student at Stockton Riverside College, was one of three passengers being driven by David Manning, a disqualified driver who was one-and-a-half times over the alcohol limit and had also taken cocaine before getting into the car.
David Manning lost control of the vehicle and crashed into a tree and metal post. He was arrested at the crash scene and later admitted causing death by dangerous driving. Lucy, who was not wearing a seatbelt, died at the scene.
Gemma Malcolm, Lucy's aunt, said: "I hope people listen and realise that drink and drug driving can kill. Drivers may not kill themselves, but they could kill someone else. Could they live with that?"
Road Safety GB NE points to statistics show that men are much more likely than women to be involved in a drink/drug drive collision, and the most at-risk group are those aged between 17-34 years.
Collisions involving drivers who are impaired by alcohol are also likely to happen much closer to home than those other collisions.
Paul Watson, chairman of Road Safety GB NE, said: "Nobody can imagine the pain that is caused when a loved one loses their life in a road accident, particularly when that collision has happened due to a drink or drug driver. It could so easily have been prevented.
"I don't believe anyone goes out with the intention to cause a fatal collision, but it could easily happen if you are under the influence.
"We want everyone to have a good time this Christmas, but either organise transport home, or make the decision to be the designated driver. It's so easy to get carried away, so our advice is to stay off alcohol altogether if you plan to drive."
Chief inspector Graham Milne, Cleveland and Durham Police, said: "Many drivers who would not consider driving after a night in the pub fail to recognise the influence of alcohol on their body the next day, or simply choose to ignore its effects.
"Drivers need to take responsibility and use alternative means of transport after a heavy night drinking.
"Throughout December our officers will be carrying out random stop checks over the two counties."
---