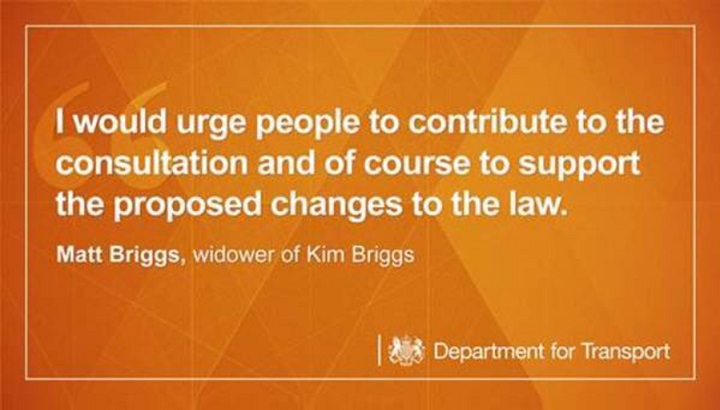 A Government consultation will look at whether a new offence equivalent to causing death by careless or dangerous driving should be introduced for dangerous cyclists.
At the same time, the DfT also announced that it will look at updating parts of the Highway Code, including measures to counter the dangerous practice of 'close passing' – and that it has commissioned the Cycle Proofing Working Group to develop national guidance and best practice for cycling and walking infrastructure.
The press release announcing the consultation says almost nothing about the new offence, but instead focuses on measures 'to protect cyclists and pedestrians who use our roads safely, including a push for higher standards for cycling and walking infrastructure'.
It goes on to reference the launch earlier this summer of 'a UK-wide initiative to help police crackdown on dangerous drivers who pass cyclists too closely'.
Announcing the consultation, Jesse Norman, cycling and walking minister, said: "In recent weeks we have announced a range of measures designed to protect vulnerable road users such as cyclists and pedestrians.
"These include new measures to combat close passing, training for driving instructors, better collision investigation and £100m in new investment through the Safer Roads Fund.
"Now we are taking further steps, including a consultation on new cycling offences, further work on national guidance on cycling and walking infrastructure, and improvements to the Highway Code.
"All these measures are designed to support the continued growth of cycling and walking, with all the benefits they bring to our communities, economy, environment and society."
The consultation is supported by Matt Briggs, whose wife Kim was killed by a cyclist in 2016, who said: "I welcome the Government's proposals for new legislation around causing death and serious injury by dangerous and careless cycling.
"This public consultation is an important step towards updating the arcane laws that are currently being used to prosecute cycling offences.
"I would urge people to contribute to the consultation and of course to support the proposed changes to the law.
"It is just under a year since I began my campaign for new legislation after the death of my wife, and I would like to thank the DfT and in particular, Jesse Norman MP, for responding to my campaign in such a positive and expeditious manner."
Steve Horton, Road Safety GB's director of communications, said: "It's right that Government reviews legislation and considers the evolution of existing and the development of new laws to support responsible road use.
"It's so often selfish behaviour from individual road users that leads to the life-changing and life-ending events we see and hear about daily, so when this happens it's right that society has a mechanism to express outrage.
"Of course legislation is as much about deterrent as it is punishment and in the main the deterrent is what helps people who want to do the right thing to maintain their behaviour.
"However, for those who make deliberate choices to allow their rights to override the rights of other road users then the punishments have to match the severity of their selfishness, regardless of the type of road user.
"Within all road user groups the majority are reasonable, considerate people but we see pockets of ignorance and arrogance that create unnecessary risk for others. This consultation acts as a reminder that all road users must play their part in sharing the highway safely."
While welcoming the consultation, the road safety charity Brake says the Government plans don't go far enough, and is calling for 'a full review of road safety law'.
Joshua Harris, director of campaigns at, said: "While the intentions behind the Government's announcement are sound, they are trying to fix a fundamentally flawed legal framework.
"A full review of road safety law is required and frankly long overdue. All too often families are denied justice, with drivers who kill let off with pitifully lenient sentences, and the public endangered through dangerous drivers evading driving bans.
"The Government must review all road safety law to protect the public and deliver justice for the families of those devastated by road death."
---