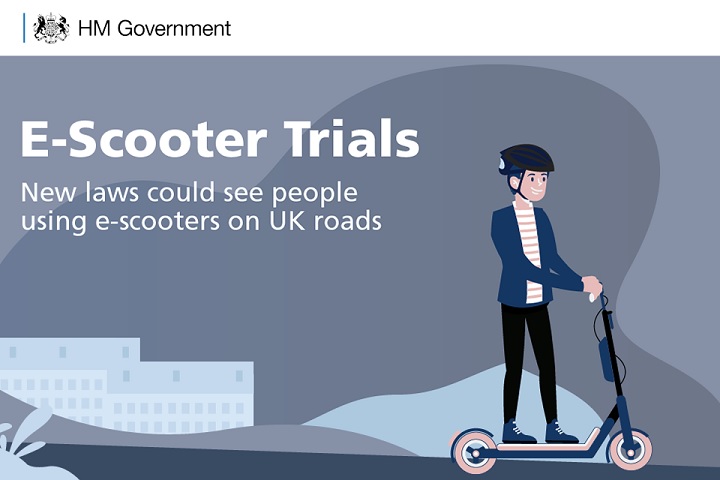 The Government has announced trials of electric scooters could start as soon as next month, as part of its plans to transition out of lockdown restrictions.
Speaking at the daily coronavirus briefing on Saturday (9 May), transport secretary Grant Shapps acknowledged the role electric scooters could play in helping to reduce car use on shorter journeys and taking some pressure off public transport.
Mr Shapps announced that trials of e-scooters would be fast-tracked from next year to next month – and be available to every local authority across the country.
The aim is to get e-scooter rental schemes up-and-running in cities 'as fast as possible', in order to help the Government assess their safety and impact on public spaces.
One area set to trial electric scooters is the West Midlands.
Andy Street, mayor of the West Midlands, said: "This trial will help bring more flexibility, choice, and greener travel solutions for the region, at a time when we are facing a climate emergency and urging people to leave the car at home.
"We will also use the trial to look at the current transport challenges the coronavirus pandemic has presented us with and explore how e-scooters could be used to help tackle them."
Under current UK law, it is illegal to use a powered transporter – such as an electric scooter – on a public road or other prohibited space, including pavements and cycle lanes.
However, the Government has been contemplating change as part of its push towards greener travel.
In March, it announced a consultation would be launched to look at the requirements for both electric scooters and those using them, to make sure they are safe for use on roads.
Meanwhile last month, the Transport Committee launched a separate inquiry to consider the implications of legalising electric scooters for use on roads, cycle lanes and pavements.
---