IAM RoadSmart says it is time to take tougher action against the hard core of drivers still willing to take to the road after drinking alcohol.
The road safety charity is urging the Government to put additional resources into tackling the 'real problem areas' when it comes to drink-driving – including young drivers.
The call follows a study which suggests the reduction in Scotland's drink-driving limit has had little effect on the level of deaths and collisions on the nation's roads.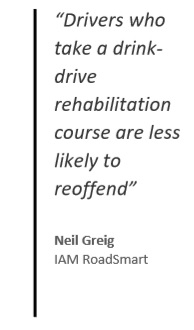 Researchers from the University of Strathclyde found that the lower limit for blood alcohol content (BAC) has not been followed by a statistically significant overall drop in road fatalities, including during peak collision periods at night-time and weekends.

There has also been little change in the death rate for young drivers aged 16-25 years, who are seen as one of the highest-risk groups for drink-driving.
Despite these findings, IAM RoadSmart has reiterated its support for lowering the limit across the UK – saying that it sends out a clear message that no level of alcohol is acceptable when driving a car.
Neil Greig, IAM RoadSmart's director of policy and research, said: "We urge the Government to put resources into tackling the real problem areas when it comes to drink-driving – young drivers, those with alcohol problems and those who simply don't believe they will ever get caught.
"The best way to catch those who ignore the limit is through intelligence-led high profile policing so investment in roads policing must be protected. The reality of being caught must be matched in education campaign messaging."
IAM RoadSmart has also stressed the importance of drink-drive rehabilitation courses.
Neil Greig added: "Drivers who take a drink-drive rehabilitation course are less likely to reoffend. Currently a convicted drink-driver has to choose to take a course when they appear in court.
"At IAM RoadSmart we believe a more effective option would be to make the course compulsory and force drivers to opt out only if they choose to do so."
---