As part of its 'Thumbs Up For Great Driving And Riding!' campaign, IAM RoadSmart has published six tips to help road users safely share the road with each other.
The 'Thumbs Up' campaign is running throughout August and encourages road users to show their appreciation for courteous driving behaviour – such as thanking a driver for giving way – with a simple thumbs up.
Throughout the month, IAM RoadSmart staff and volunteers are watching out for good deeds committed by drivers and riders and handing out thousands of stickers in support of the campaign.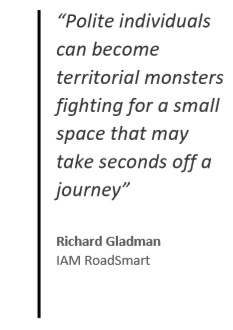 As part of the initiative, Richard Gladman, IAM RoadSmart's head of driving and riding standards, has issued the following tips to help road users behave courteously towards each other:
Look ahead and predict what other road users may be doing; be ready to react and change your speed if necessary

Try to see the world through the eyes of others and help them, without them even realising it

Give way; a large vehicle, such as an HGV or a bus, will need extra room when turning

Allow extra room; motorcyclists can sometimes been seen filtering through traffic

Know when to overtake; be patient and overtake when the time is right, if you have to follow for a while then leave a sensible space

Be respectful when passing horses; make sure you give the rider enough space when passing them
Richard Gladman said: "Our behaviour towards others often changes when driving. Polite individuals can become territorial monsters fighting for a small space that may take seconds off a journey; this competitive attitude can ramp up stress levels.  
"Remember, until you walk – or in this case drive – a mile in another man's shoes, you won't appreciate that driving is much better if we share nicely.  
"A big 'Thumbs Up' to enjoying the sunshine and appreciating the polite waves and smiles you can now collect on your journey."
Drivers and motorcyclists can get involved with the campaign by sharing their own positive driving and riding experiences on social media using the hashtag #ThumbsUpForGreatDriving or #ThumbsUpForGreatRiding.
---