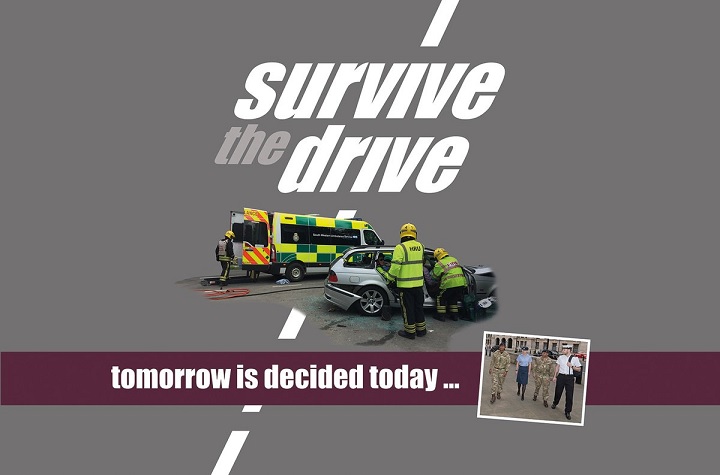 A new road safety initiative is being piloted at military bases in the south west on the back of figures suggesting army personnel are '111% more likely to die as a result of a road traffic collision'.
'Survive the Drive' has been developed by a host of organisations*, including Devon & Somerset Fire and Rescue Service (DSFRS), and is based on the Learn2Live theatre style presentation.
It comprises a mix of films featuring armed services personnel who have been involved in a road traffic collision, as well as live speakers who share their own personal experiences.

Topics covered during the session include driving while tired, drink-driving, using a mobile phone, speeding and not wearing a seatbelt.
DSFRS hopes the initiative will lead to an understanding that driving is one of the biggest risks armed forces personnel face – and that small changes in behaviour can lead to a reduction in road collisions.

Dan Lester, education and road manager for DSFRS, said: "The armed forces are statistically more at risk of a RTC than their civilian counterparts. So we are hoping to reduce that figure by giving them vital information to keep them safe behind the wheel. It is a great collaboration with the armed forces."
In December 2018, the 'Survive the Drive' team presented at Stonehouse Barracks in Plymouth, speaking to Royal Marines.

Simon Roles, captain in the Royal Marines, said: "The presentation and messages are invaluable and humbling at the same time.
"Road safety is important as we have a duty of care to the people we manage. It is also vital for the military capability deployed that they see and hear the raw account that the blue light services and civilians have put across to us."

*Survive the Drive has been developed by a consortium including DSFRS, the charity SAFE South West, Dorset & Wiltshire Fire & Rescue Service, Devon County Council Road Safety and the Ministry of Defence – Defence Safety Authority.
---