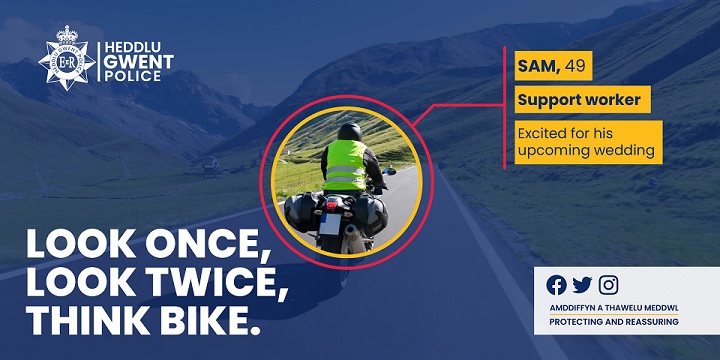 Gwent Police has launched a campaign emphasising the need for car drivers to take a second look for motorcycles, and for bikers to take personal responsibility for riding safely.
The two-pronged campaign reminds drivers that under the crash helmet is a real person with a job, commitments, a valued place in their community – and loved ones who are waiting for them to come home.
Alongside this, the campaign targets motorcyclists, encouraging them to 'read the road, reduce the risk'.
Statistics show there were 25 serious road traffic collisions involving motorcyclists in the Gwent Police force area in the 12 months to 8 September 2021, resulting in three fatalities and 25 serious injuries.
Sgt Leighton Healan, Gwent Police, said: "Motorcyclists are around 45 times more likely to be killed or seriously injured on the road than car drivers.
"Those fatalities and serious injuries leave loved ones suffering. Every collision involving a bike is one too many.
"Car drivers: let's commit to making a simple change by looking twice for bikes. 
"Motorcyclists: please commit to taking responsibility for riding safely and defensively.
"Together, let's commit to making sure that motorcyclists and other vulnerable road users come home safely to their loved ones and communities."
---