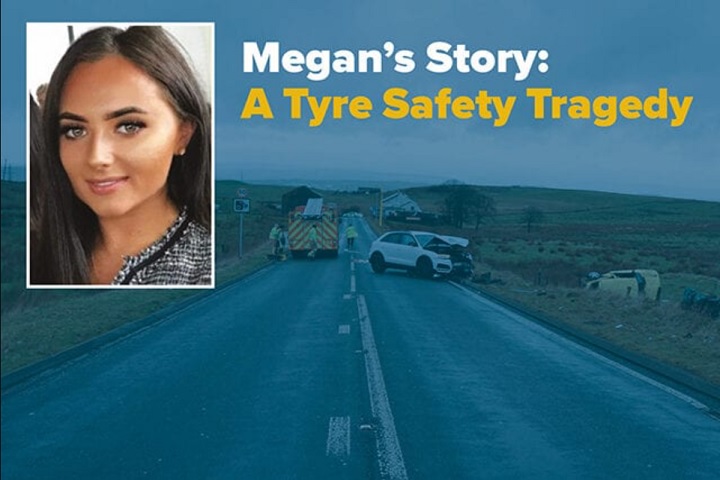 TyreSafe has been working with the parents of a 22 year-old woman, who tragically lost her life in a tyre-related incident last year, to highlight the importance of tyre safety checks.
On 20 February 2020, Megan Byrne was travelling home in her car. As Megan approached a left-hand bend, she lost control of her car, crossed into the opposite lane, and collided with a large family car.
Emergency services, including Lancashire Fire and Rescue Service and Lancashire Constabulary, were in attendance but the impact of the crash was so severe Megan died at the scene.
Police collision investigators confirmed that Megan was driving within the speed limit and was wearing a seat belt at the time. However, two of the tyres on Megan's car were underinflated, which was identified as a major contributory factor in the crash.
Megan's parents, John and Joanne Byrne, have spoken candidly about the day's events – and with the cooperation of Lancashire Road Safety Partnership, produced a video tribute.
Joanne Byrne, said: "We wanted to share Megan's story as we certainly don't want anyone else to go through what we have. 
"It has taught me a lesson to check my tyres as I never used to do it – it's such a shame that Megan has had to pass away for me to realise that."
Stuart Jackson, TyreSafe chairman, said: "The bravery of Megan's parents to help raise awareness of tyre safety after such a tragic event is remarkable and we thank them sincerely for working with us. 
"As Joanne said, publicising the incident might help others avoid the pain and suffering the Byrne family has gone through if motorists were made aware of the importance of regularly checking their tyres.
"I encourage all to watch the video if it is not too distressing for them and share this potentially life-saving story."
---