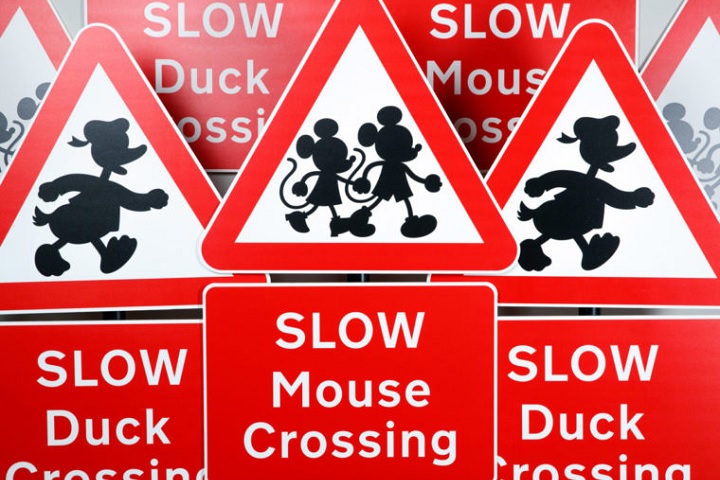 Some of Disney's most famous characters are being used as part of a new campaign to encourage drivers to take more care around schools.
Brake has teamed up with TV channel Disney Junior to create a series of special edition road signs featuring Mickey Mouse, Minnie Mouse and Donald Duck.
While the signs will not actually appear on any real roads, they will feature in a new interactive road safety guide being distributed to nurseries, schools and parents nationwide as part of Disney Junior UK's Parenting Hacks initiative.
The campaign is supported by Margaret Calvert OBE, designer of many of the road signs used throughout the United Kingdom, who said she hoped the new signs would "help teach young children important lessons of the road".
Margaret Calvert said: "It was an enjoyable challenge collaborating with Disney Junior and Brake on an important subject, and by using such recognisable characters I hope they help capture the attention of children, and parents too."
The campaign has been launched on the back of a survey carried out by Fly Research, in which 38% of respondents said it has become too dangerous to walk their children to school.
82% of respondents expressed concerned about the speed of cars around their children – while 35% fear their children don't know the basics of Stop, Look, Listen and Think.
Dave Nichols, community engagement manager at Brake, said: "Our vision is a world where all children can enjoy safe and healthy journeys.
"Teaming up with Disney Junior and Mickey and the Roadster Racers is a fantastic way to help young children and those who care for them raise awareness about being safe on our roads.
"Having the support of Britain's official road sign designer is a powerful way to have these iconic characters give children a voice and call on grown-ups to drive safely."
---