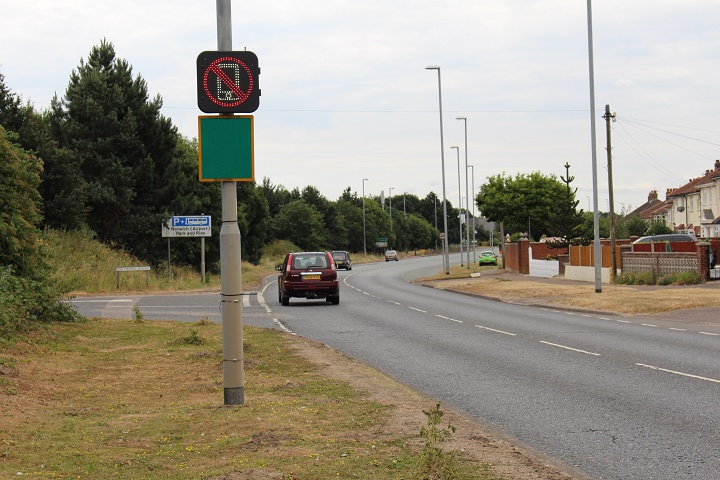 A new mobile phone detection system, the first of its kind to be used on UK roads, has become operational in Norfolk.
The system has been developed by Norfolk County Council in partnership with vehicle activated signs manufacturer Westcotec, as part of efforts to deter motorists from using mobile phones at the wheel.
Using the latest technology the unit identifies what type of signal is being transmitted by the handset and whether it is being used via the vehicle's Bluetooth system.
When the relevant signal is detected – indicating that a mobile phone is being used within the vehicle – the road sign is activated as the vehicle passes, giving a flashing visual message intended to prompt the driver to stop using their phone.
However, at present there is no facility to record a vehicle's number plate – although Norfolk County Council says this is likely to be a future development.
From today (10 July), the technology is being trialled in four locations across Norfolk. The detection units will remain at these sites for a month, before being moved to a new location.
Diane Steiner, Norfolk County Council's deputy director of public health, said: "Our priority is to make Norfolk a healthy and safe place to live and the new technology enables us to provide a reminder to drivers who may be using their handset whilst driving.  
"Whilst this is still not a perfect science, the new generation of sign is significantly more accurate and reliable than the first."
As part of the trial, Norfolk County Council's road safety team will be working closely with Norfolk Police to share statistics provided by the detection system.
Inspector Jonathan Chapman, Norfolk Roads Policing unit, said: "This scheme is a good example of how we can work with local authorities to make using a mobile phone whilst driving as socially unacceptable as drink or drug-driving.
"Any scheme which prevents this kind of behaviour is welcomed. Using a mobile phone at the wheel is one of the fatal four road offences which can have devastating consequences if it causes a fatal or serious collision.
"We will be using the information provided by Norfolk County Council's road safety team to help us target drivers in the future but the message is simple – leave your phone alone whilst you're behind the wheel."
Chris Spinks, specialist product sales, Westcotec, said: "Being a local company we're delighted to be able to trial this technology first within Norfolk.
"We've worked very closely with the road safety team at Norfolk County Council to get to this position and are glad that we're able to assist them in promoting awareness about the dangers of mobile phone use in the car."
---