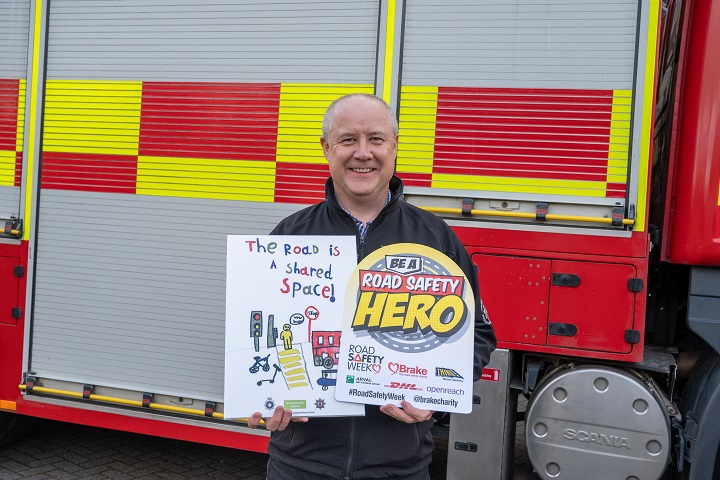 Schools across Northamptonshire recently took part in a poster competition, designed to empower them to raise awareness of safe parking.
The competition was organised by the Northamptonshire Safer Roads Alliance (NSRA) as part of its Road Safety Week activities.
NSRA says schools across the county experience a range parking issues including parking on footpaths, close to junctions, on zebra crossings and on school zig zag markings.
The Alliance also points to a number of instances where emergency services have been unable to access schools due to the poor parking.
The competition aimed to ensure 'the voice of children is heard' – with more than 100 entries received.
The winning design by Olivia, a Year 3 pupil from Delapre Primary School, has been made into a temporary sign which is part of a suite of resources the NSRA is deploying to remind parents to park considerately, including:
Two large 'no parking banners' that can be displayed prominently on school gates

Two 'A' frame style signs saying 'Think before you park' that can be used on pathways

Two 'police buddy' child-friendly signs that can be displayed near school entrances and crossings
The measures will be trialled at two schools during the next school term to evaluate whether there has been any noticeable change in parental behaviour. If successful, they will be offered to all schools to borrow for a limited period of time, to then encourage them to purchase their own signs.
The NRSA is also providing an e-flyer for schools to send out to parents to remind them of their legal responsibilities.
Keith Millard, senior behavioural change officer, said: "The safety of young people outside our schools is a concern and school parking especially at drop off and collection times presents a risk to children, parents and staff due to inconsiderate parking. 
"The children's designs have been fantastic and the staff are excited about trying out the new resources.
"We will also encourage them to sign up for our Road Safety Heroes Scheme, which enables the children to try to help with the problems.
"Unfortunately, there is no simple fix for the issues outside schools and we hope that these small measures will go some way in offering some simple solutions for schools."
---