Delegates at the 2018 National Road Safety Conference, which took place in Brighton last month, raised more than £1,000 for a local air ambulance charity.
Guests attending the National Conference Dinner on the evening of Tuesday 27 November were asked to participate in a raffle to raise funds for the Air Ambulance Kent Surrey Sussex (AAKSS), an independent charity which provides emergency medical services across the south-east region.
AAKSS was represented on the night by Simon Norris-Jones who explained to guests that every day, AAKSS crews strive to save lives by providing the best possible emergency medical care.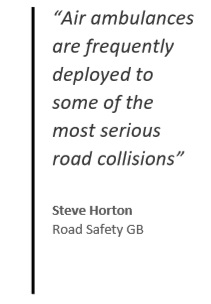 Mr Norris-Jones said that during 2017, 44% of the charity's call outs were to road traffic collisions – attending to patients who have often suffered traumatic injuries that need urgent, specialist attention at the roadside.
Being able to reach and treat these people across the region, and then transfer them to hospital (often to regional major trauma centres) really does save lives, he said.
A total of £1,093.50 was raised for AAKSS through the raffle.
Steve Horton, Road Safety GB's director of communications, said: "It's great that those attending National Conference have been able to provide this sum to the local air ambulance charity.
"Road safety professionals understand the human impact of road crashes as this is at the heart of all the prevention work we are involved in, and air ambulances are frequently deployed to some of the most serious road collisions.
"While air ambulances are very expensive to operate, the opportunity to provide life saving care in a speedy manner represents many victims' best chance of recovery. So there is an affinity between our casualty reduction work and that of this and all health care services."
---