A national ban on pavement parking in Scotland has moved a step closer, after proposals received backing from Holyrood.
On 7 March, the Scottish Parliament's Rural Economy & Connectivity Committee announced its support for the Transport (Scotland) Bill, which includes changes to pavement parking restrictions.
In its Stage 1 report, the Committee acknowledged 'the vital importance of maintaining clear pavements and walkways' – adding that the Scottish Government should consider whether it would be 'appropriate to extend the provisions to cover cycleways'.
The Committee also calls for an exemption – which allows business vehicles to park on the pavement 'for no more than a continuous period of 20 minutes' – to be removed from the Bill, a sentiment which has been welcomed by Living Streets Scotland.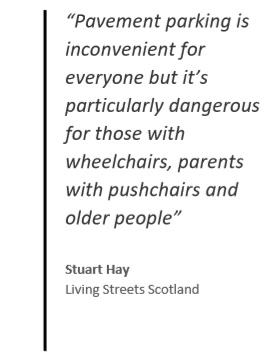 Stuart Hay, director of Living Streets Scotland, said: "Pavement parking is inconvenient for everyone but it's particularly dangerous for those with wheelchairs, parents with pushchairs and older people, forcing them onto the road and into incoming traffic.
"Allowing delivery vehicles to block pavements for 20 minutes was open to abuse and would have undermined the core principles of the Bill, so we are happy to see the Committee call for the removal of this exemption.
"We urge MSPs to now ensure the bill is not watered down, and that practical plans and resources are put in place to secure pavements for people."
The Transport (Scotland) Bill – first introduced by Derek Mackay MSP in June 2018 – also focuses on low-emission zones, road works and bus services.
The Committee report notes it would be beneficial to include in the Bill a clear definition of what a low-emission zone is – and what its objectives should be.
The Committee is also of the view that effective introduction of low-emission zones will require steps to be taken in advance to 'provide improvements in public transport provision'.
The Committee's endorsement of the Bill's general principles means it can now pass to 'Stage 2' of the process – where MSPs will consider the details and propose any changes to the text (known as amendments).
---