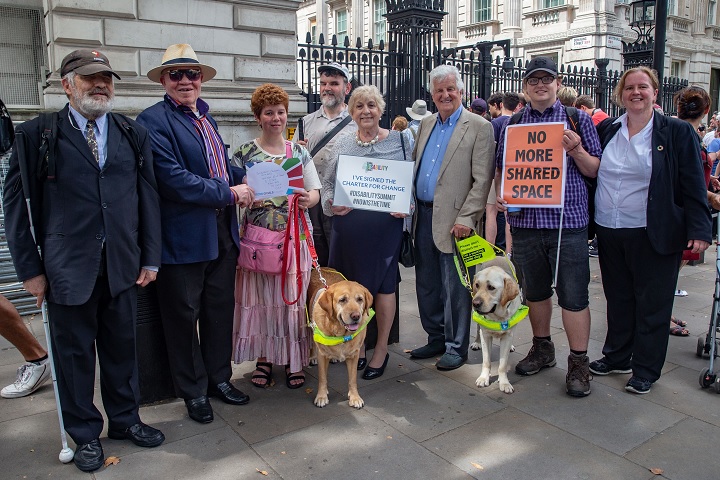 Blind people are being 'progressively excluded from their town streets' as a result of shared space road design, it has been claimed.
Shared space schemes – where features such as kerbs, road surface markings, designated crossing places and traffic signs are removed – have been introduced in a number of town centres in recent years.
Shared space is intended to create a safer road environment – based on the theory that drivers will reduce their speed because of uncertainty over who has priority.
However, shared space is not without controversy, with concerns regularly raised about how the schemes adversely affect the safety and mobility of blind and disabled pedestrians.
In July 2018, the Government told local authorities to pause the development of shared space schemes while it reviews and updates its guidance – before relaxing this advice the following month.
The National Federation of the Blind UK (NFBUK) – which has regularly expressed concern about how Government is managing the issue – is now urging new prime minister Boris Johnson to bring a complete halt to shared space road design across the UK.
On 24 July, NFBUK submitted a petition to 10 Downing Street – backed by approximately 200 UK charities – pressing for an independent inquiry into shared space design principles.
The petition calls for 'a world where blind, deaf-blind, visually impaired, disabled, young and older people, and people with mobility and cognitive impairments, do not have to share space with moving vehicles on the road please'.
Andrew Hodgson, president of the NFBUK, said: "We are asking Boris Johnson for his support and to bring a complete halt to shared space road design in the UK. 
"Creating urban areas that are safe and accessible for all to use independently just makes economic and social sense."
The petition includes an endorsement from Lord Chris Holmes, the blind ex-Paralympic swimming champion who is now a representative of the Equality and Human Rights Commission.
---