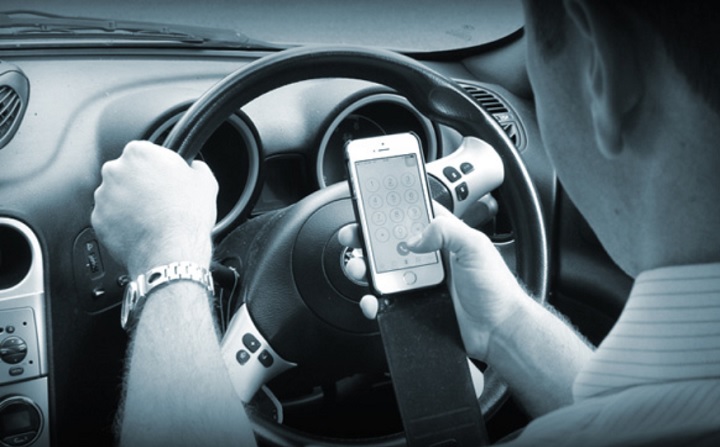 Police in Norfolk and Suffolk are targeting drivers who text and talk behind the wheel as part of a week-long enforcement campaign.
Operation Ringtone launched yesterday (17 Sept) – to coincide with a nationwide campaign led by the National Police Chiefs' Council (NPCC) – and will run until 23 September.
Officers from the Joint Norfolk and Suffolk Roads and Armed Policing Team are carrying out extra patrols using both marked and unmarked cars and motorcycles – all fitted with cameras to obtain evidence to help ensure successful prosecutions.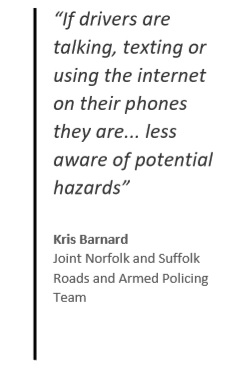 During the most recent campaign, held between 22-28 January, 243 Traffic Offence Reports (TORs) were issued in Suffolk (122) and Norfolk (121) to drivers using a mobile phone while driving.
In July, authorities in Norfolk began using a new mobile phone detection system, described as the first of its kind to be used on UK roads.
The system was developed by Norfolk County Council in partnership with vehicle activated signs manufacturer Westcotec, as part of efforts to deter motorists from using mobile phones at the wheel.
Temporary superintendent Kris Barnard, head of the Joint Norfolk and Suffolk Roads and Armed Policing Team, said: "Driving while using a mobile phone is one of the 'fatal four' offences which makes you more likely to be killed or seriously injured in a collision; alongside speeding, drink/drug driving and not wearing a seatbelt.
"If drivers are talking, texting or using the internet on their phones, then they are distracted from the job at hand and less aware of potential hazards.
"We are determined to make this offence as socially unacceptable as drink and drug driving and this stigma combined with the stiffer penalties are, in my opinion, beginning to contribute to a gradual fall in offences."
---