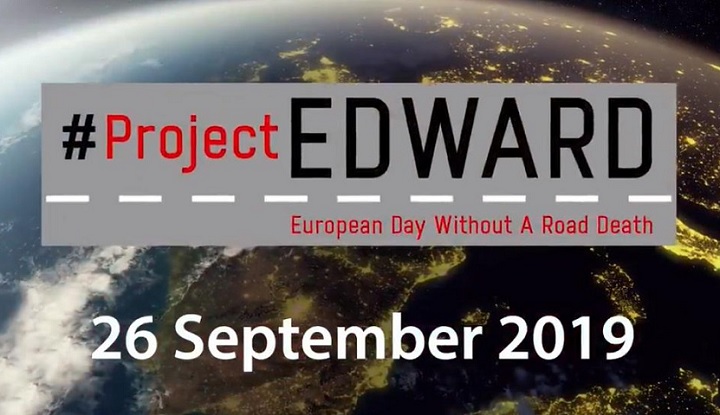 However we use the roads, we are all more vulnerable than we think we are.
That's the overriding message from TISPOL ahead of this year's Project EDWARD (European Day Without A Road Death), which takes place on 26 September.
Project EDWARD is an annual awareness-raising initiative which aims to spread simple safety messages to all road users, helping them to play their part in working towards zero road deaths.
It was founded by TISPOL in 2016, in response to figures which show an average of 70 people are killed on roads across Europe each day.
TISPOL accepts that it would be incredibly difficult to achieve a day without road death, but says Project EDWARD delivers fantastic results in terms of revitalising Europe-wide collaboration and participation.
In 2018, 31 European countries took part – with the #ProjectEDWARD hashtag reaching 25 'million Twitter users on the day.
Speaking earlier this year, Aidan Reid, TISPOL acting general secretary, said: "A day without a road death is of course the vision we should strive for every day, not just on 26 September. 
"But we have seen that Project EDWARD is a simple yet highly effective awareness-raiser, whether or not we achieve zero deaths on the day itself."
Efforts ramped up ahead on 2019 event
Preparations are already well underway for Project EDWARD 2019 – which seeks to win the hearts and minds of individual road users to help bring about sustained and significant reductions in road deaths.  
Last month, TISPOL published a social media library – including a recommended timetable of social media activity, with themes and images for each day in September.
On Monday (16 Sept), the #ProjectEDWARD 'road trip' gets underway, with a launch event taking place in the Czech capital, Prague.
The tour will take TISPOL to schools, town halls, live police operations, road safety conferences and even the Nürburgring track in Germany, to engage with a mix of road users, political figures and safety organisations. 
It arrives in the UK on Friday (20 Sept) with officials meeting with Kent Fire and Rescue service in Rochester. The tour then heads to Edinburgh (23 Sept) for a meeting with Scotland's transport minister Michael Matheson and then Belfast (24 Sept).
Will the initiative strike a chord in the UK?
Project EDWARD is now firmly established on the road safety calendar – and was recognised with a Prince Michael International Road Safety Award in October 2018.
The Prince Michael judges said the scheme showed 'a high degree of collaboration from a wide range of organisations working together across Europe'.
In previous years, the initiative has been well-received in the UK – with many local authorities placing extra emphasis on road safety to coincide with the day.
UK-based supporters for 2019 include GEM Motoring Assist, RoadPeace, DriveTech, Vitronic and Westcotec.
James Luckhurst, media advisor to TISPOL, said: "I am thrilled by the response to Project EDWARD from the road safety profession and from police forces across the UK.
"We are about to embark on a road trip supported by many police forces, including the Met, Greater Manchester, West Midlands, Thames Valley, Dyfed-Powys and Police Scotland.
"Everyone I have spoken to is passionate about reducing death on our roads. I hope our awareness-raising activities can contribute to a better appreciation of the work done all over the UK on a day-to-day basis to promote safety and reduce risk."
As in previous years, members of the public are being encouraged to record a supportive video message, a selction of which will be published on the Project EDWARD website.
Are you supporting Project EDWARD 2019?
Are you organising an event in support of this year's Project EDWARD? Let us know by emailing Edward Seaman. All events will be featured on Road Safety News on 26 September.
---