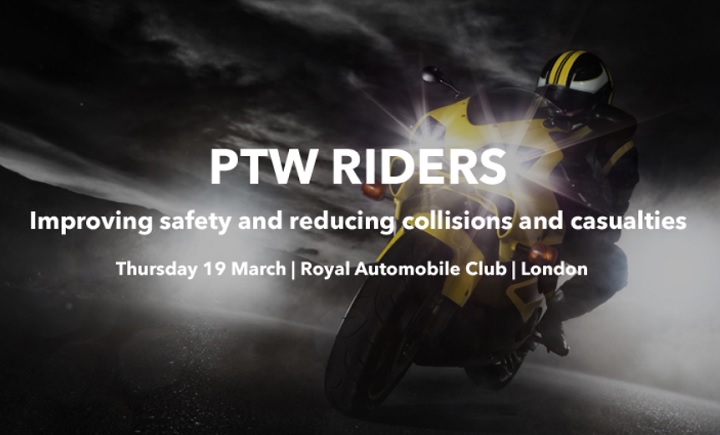 The agenda for a one-day conference – which will focus on reducing casualties among powered two wheeler riders – is taking shape, with eight confirmed speakers.
The conference, titled 'PTW riders: improving safety and reducing collisions and casualties', is being organised by Road Safety GB in partnership with the DfT. It will be held at the RAC Clubhouse in Pall Mall, London on Thursday 19 March 2020.
The conference content will be geared towards road safety practitioners – principally local authority road safety officers, fire & rescue and police officers and motorcycle instructors.
Key stakeholder organisations in the PTW sector have been invited to present at the conference and outline what they are doing to help reduce collisions and casualties among riders – and what they think road safety practitioners should be doing to achieve the same aim.
Among the eight speakers confirmed on the agenda is Colin Brown, director of campaigns and political engagement, Motorcycle Action Group (MAG).
Colin's presentation will outline research which suggests the concept of 'Safety in Numbers', widely accepted in the world of cycling safety, applies equally to motorcycling – before exploring the barriers to increasing the number of riders on the road.
In a presentation titled 'Sorry mate I didn't hear you', PC Paul Ennis from the West Midlands Police Road Harm Prevention Team will discuss the increasing popularity of electric powered two wheelers, and the road safety implications relating to their use.
A third speaker on the agenda is professor Alex Stedmon, an esteemed academic who works as an expert witness and an independent transport consultant.
Alex's presentation will explore research conducted in New Zealand, which investigated the use of road markings to help riders approaching and navigating dangerous bends.
With a focus on the UK, Alex will also discuss unique tools that 'prime' rider behaviour in a positive way to increase enjoyment and expertise.
Delegate fees
The delegate fee is £160 for Road Safety GB and Academy members.
The cost for attendees from the public sector, third sector and academia is £185 and for other attendees £235 (all fees plus VAT). The delegate fee covers all refreshments, including lunch.
Click here to book a place to attend, or for more information contact Nick Rawlings (agenda and speakers) or Sharon Wilkinson (delegate registration) on 01379 650112.
There is also an opportunity for an organisation(s) from the private sector to become involved as a sponsor or exhibitor – click here for more details.
---