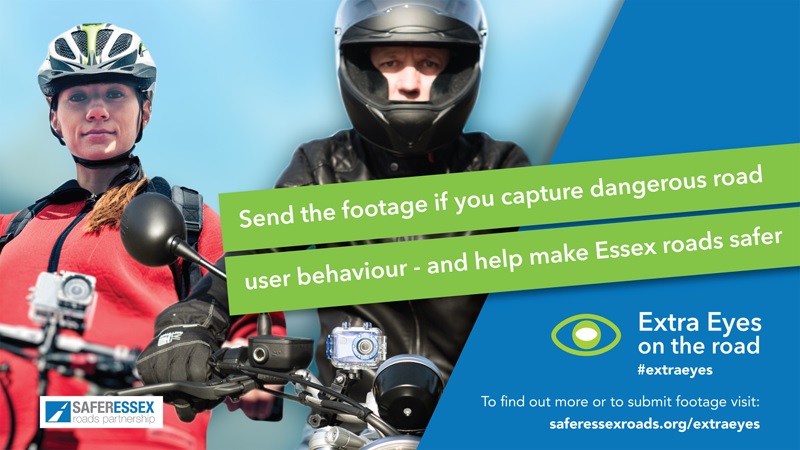 Essex Police received more than 100 videos in the first full month of a campaign which encourages road users to submit footage showing dangerous behaviour.
The Extra Eyes campaign, launched in December 2017, provides a simple method for cyclists, motorcyclists and drivers to upload potential evidence, in a bid to improve safety on roads across Essex, Southend-on-Sea and Thurrock.
Having reviewed the footage, where appropriate Essex Police will contact the person caught on camera and explain the potential consequences of their actions.
Alternatively, the offender may be offered a driver retraining course, or in serious cases face prosecution with the footage used as evidence.
Of the 106 videos submitted in January 2018, Essex Police took action in response to 49 of the clips.
33 notice of intended prosecutions (NIPs) were sent out for careless driving as a result of footage submitted by the public, while one NIP was issued for dangerous driving.
11 road users received a letter from the police warning them about their behaviour, while four intelligence reports were prepared.
Seven of the videos showed road traffic collisions and as such were passed on to the Essex Police CRASH team.
The Safer Essex Roads Partnership (SERP) hopes that the publicity generated by Extra Eyes will act as a reminder to road users of the need to behave safely and considerately.
Click here to see examples of the type of footage SERP is asking people to submit, along with full guidance on how to submit footage.
---