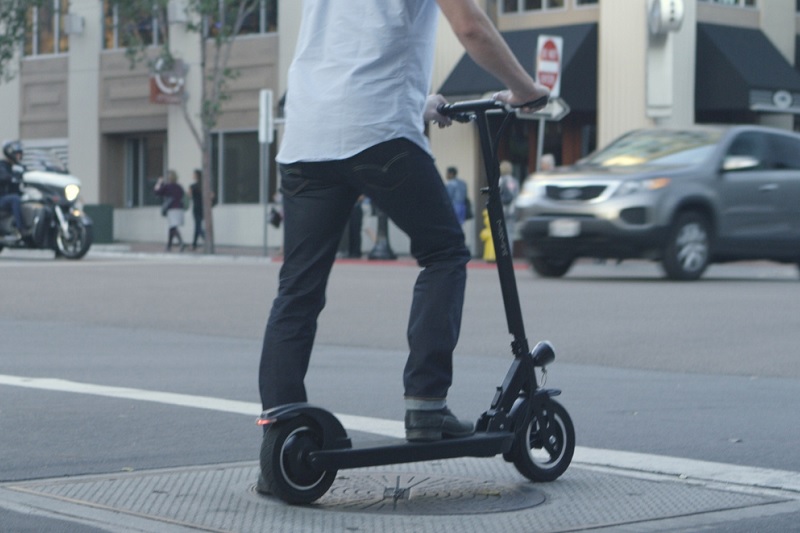 A charity which represents blind and visually impaired people has written to the DfT urging it to rethink plans to legalise electric scooters, warning they contribute to a 'dangerous, frightening, intimidating and hostile' urban environment.
The National Federation of the Blind UK (NFBUK) says the DfT has underestimated the 'overwhelming negative impact' of e-scooters – both in terms of rider safety and the impact on blind, disabled and elderly road users.
In the letter, the NFBUK suggests local authorities are not fully aware of the 'significant dangers' of e-scooters and the 'headaches' they create for public bodies trying to regulate their use. 
It also notes the NHS should not have to deal with a potential new wave of serious and minor injuries.
The NFBUK is calling on the DfT to halt UK trials and instead focus efforts on ensuring 'safe and accessible urban environments' for all – particularly at a time when people need to socially distance.
Andrew Hodgson, president of NFBUK, said: "After learning about the accidents e-scooters have caused, it is very clear to me they are not fit for purpose. 
"Riders appear to fall from them very easily, causing serious head injuries along with many broken bones. 
"It is also clear from practical experience, dockless e-scooters simply do not work as the machines can end up anywhere in the city. 
"This causes totally random potential barriers to access across city pavement and public space for disabled and elderly people and mothers with buggies.  
"At a time of social distancing when urgency has been placed by the Government on active travel, it is critical that all spare public space on the highway is protected for walking and cycling. 
"E-scooters will only take people away from active travel and those embracing walking and cycling will be faced with danger and chaos if e-scooters are legalised in the UK."
Under current UK law, it is illegal to use a powered transporter – such as an electric scooter – on a public road or other prohibited space, including pavements and cycle lanes.
However, the Government has been contemplating change as part of its push towards greener travel – and in March, announced a consultation on their legalisation would take place.
In May, secretary Grant Shapps announced fast tracked trials of electric scooters would start in June, as part of the Government's transition out of lockdown restrictions.
---