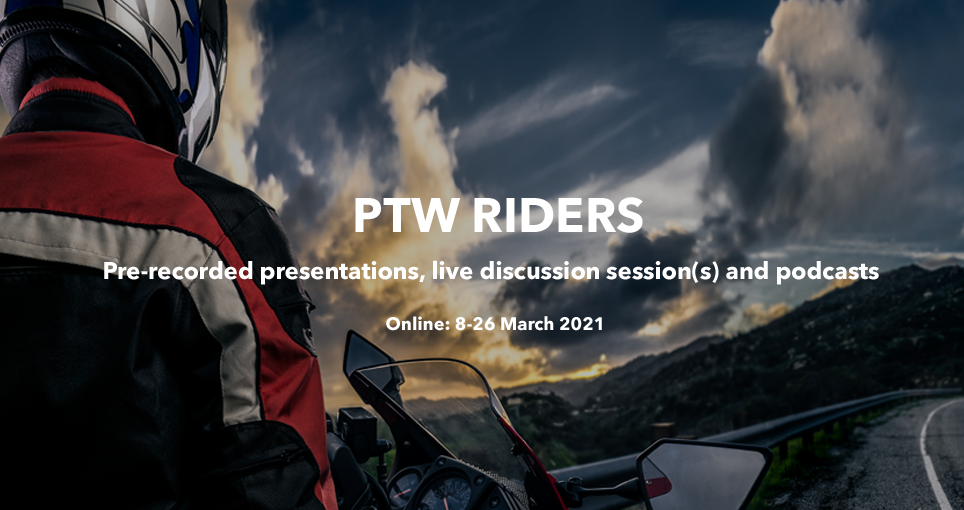 Delegate registration is now open for the Question Time session being held as part of Road Safety GB's online PTW event, with 100 spaces available free of charge on a first-come, first-served basis.
The online event, titled 'PTW Riders: improving safety and reducing collisions and casualties', will be aired free-to-all during March 2021, commencing Monday 8 March, and will follow a similar format to the Festival of Road Safety.
The programme will comprise a series of pre-recorded presentations and podcasts (published at 10am each day) – as well as a live workshop and the Question Time session.
Question Time takes place on Thursday 11 March (11.00 – 12.00). Hosted by Nick Rawlings, it features the following panellists:
Karen Cole, director of safety and training, MCIA
Dr Cris Burgess, senior lecturer in psychology, University of Exeter
Colin Brown, director of campaigns and political engagement, MAG
Iain Temperton, Traject Road Safety Specialist
Attendees will have the opportunity to put a question to the panel in advance of the session – by email to Edward Seaman – and live on the day itself.
Topics likely to come up for discussion include how to make roads safer for PTW riders, how to encourage more younger riders to take additional/advanced training, and where or how motorcycling fits in with the 'Vision Zero' concept.
Click here to register for the session – and click here for more information about the panellists.
Edward Seaman, who is organising the event on behalf of Road Safety GB, said: "The agenda for the online PTW event is shaping up nicely, with 17 sessions already confirmed, covering a wide variety of PTW-related topics.
"The Question Time session promises to be one of the highlights, with four expert panellists lined up to answer questions from the audience.
"With only 100 places available free of charge, I encourage anyone interested in attending to register as soon as possible to be sure of getting a place."
---