Empathy and storytelling have their place in road safety education – but hard-hitting images and gore are not necessary or effective, according to a new report.
The report – titled 'the role of empathy through storytelling in young driver road safety education' – has been authored by Jami Blythe from Northumbria Police, as part of her professional doctorate (DProf).
In her position as motor patrols officer, Jami Blythe is involved in delivering Road Sense Common Sense (Road Sense), an emergency services multi-partner young driver road safety presentation.
Road Sense takes a format similar to other initiatives across the country, such as Safe Drive Stay Alive and Wasted Lives. It is a staged presentation which comprises a short film and live speakers, delivered to sixth form students at their own schools and colleges.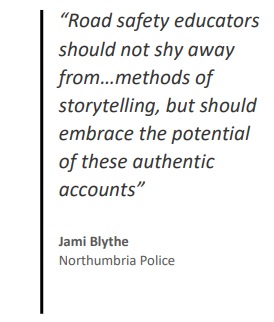 Road Sense is designed to raise road safety awareness among young road users and promote better decision making through reflective accounts and authentic stories. No graphic or 'gory' images are used in the presentation.
Jami Blythe's research began in 2015, when she began to analyse the engagement of the young audience with the short films and speakers featured in the Road Sense presentation.
In evaluation carried out immediately after the presentations, a 'slight preference' for stories told by the live speakers was observed, with in some cases twice the number of students finding the speakers more impactive than the short films.
Literature regarding empathy, storytelling and health communications was then explored to provide a basis for further research, in order to explore the potential of real stories to help deliver road safety messages to young drivers.
This was followed by focus groups with students to explore what aspects of the Road Sense presentation they could recall, and whether it had resulted in better decision making when travelling in vehicles with friends.
During one of the groups, Jami Blythe says a student explained how he had felt a 'lump in [his] throat' while watching the Road Sense presentation. The presence of discrete emotions, such as sadness, were also discussed during the session.
In her thesis, Jami Blythe makes the following recommendations for road safety professionals:
Embrace the experience of others, such as those from emergency services.

Identify narrators who can 'be themselves' and are not concerned with finger pointing or lecturing.

Value the reflective ability of young students by depicting life as relevant to them.

Hard hitting images and gore are not necessary, nor are they effective.

Offering a broad menu of stories from which the students can choose can replace task orientated messages such as 'don't drink and drive'.

Big budgets are not necessary – the value lies in the content of real stories, not in flashy camera work or Hollywood sets.
Jami Blythe said: "Road safety educators should not shy away from what some may perceive to be 'sentimental and woolly' methods of storytelling, but should embrace the potential of these authentic accounts.
"What the students in this study found most valuable, most credible and most engaging were the recollections of those who told honest and authentic tales of their experience.
"In times of financial austerity, storytelling can be recognised as a legitimate learning approach to develop a greater understanding of experience and therefore behaviour change."
Dr Jami Blythe's thesis is available for download from the Road Safety Knowledge Centre.
---