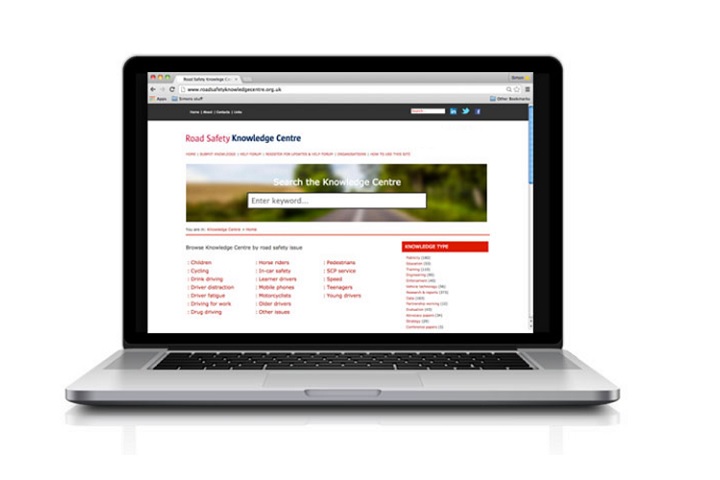 With RSOs across the country now desk bound and working for home, they are turning to colleagues for help and advice via the Road Safety Knowledge Centre.
Established in 2009 and operated by Road Safety GB, the Road Safety Knowledge Centre is an online library of reports and interventions covering the full spectrum of road users and road safety related issues.
The Knowledge Centre comprises more than 4,000 listings and has in excess of 2,300 subscribers who receive the weekly alert issued by the project team.
The Knowledge Centre includes a Help Forum where colleagues can seek advice from colleagues. While the Knowledge Centre itself is open source, the Help Forum requires a simple sign up by users (name and email address only).
In a little over 24hrs this week (31/3 – 1/4) the Help Forum received five requests for help – as many as would normally be received in a month.
Knowledge Centre project manager Nick Rawlings puts this spike in activity down to the fact that road safety professionals currently have a little more time on their hands – and are putting that time to good use.
Nick Rawlings said: "RSOs are normally busy people, often out and about in the community delivering road safety interventions.
"But with the current ban on all but essential travel – and schools and communities effectively shut down – they appear to be using the additional time they have to increase their understanding of a range of issues, via the Knowledge Centre.
"It is interesting to note that four of the five recent help requests relate to road safety services and education delivered to schools."
The five recent help requests are as follows (click on the link to see the responses):
Resource Prioritisation (3 responses)
In the current climate with funding decreasing and demand for road safety services increasing, I am often left the position where I am unable to deliver services to school due to lack of resources. I am looking at a way of prioritising delivery to schools. Does anyone have a criteria that they are willing to share?
http://www.roadsafetyknowledgecentre.org.uk/help-forum/1118.html
Primary school road safety delivery (4 responses)
We're carrying out a review of our delivery in primary schools and wondered if other areas would be willing to share an outline of what you deliver for each year group, or if anyone has any links / information about best practice. We've looked at the Think and new online resources. We'd be interested in what other areas deliver as both classroom based sessions and practical training so we can compare with our current provision. Many thanks.
http://www.roadsafetyknowledgecentre.org.uk/help-forum/1117.html
Evaluation Of Road Safety Campaigns (3 responses)
I am trying to find out what type of evaluation happens and how it is carried out within other Authorities and organisations. Any information would be of great help.
http://www.roadsafetyknowledgecentre.org.uk/help-forum/1116.html
Junior Travel Ambassador Scheme (1 response)
We have now been successfully running the Junior Travel Ambassador Scheme in Cambridgeshire for 5 years. I would be interested to hear from others who are providing JTA/JRSO and in particular how you organise this within your county/borough and if you have or are doing any evaluation on the project. Wishing all my road safety colleagues, stay safe and keep well at this difficult and challenging time.
http://www.roadsafetyknowledgecentre.org.uk/help-forum/1115.html
Road safety education during coronavirus pandemic (2 responses)
I'm posting this help request in response to enquiries from a number of RSOs. Be interested to know how RSOs are getting information out to children and young people with educational establishments currently closed – and what resources they are using? Any ideas/suggestions etc very welcome.
http://www.roadsafetyknowledgecentre.org.uk/help-forum/1114.html
Click here to visit the Road Safety Knowledge Centre, and here to subscribe to receive the weekly email alert and/or to participate in the Help Forum. 
Alternatively, for more information contact the Knowledge Centre project manager Nick Rawlings by email.
---