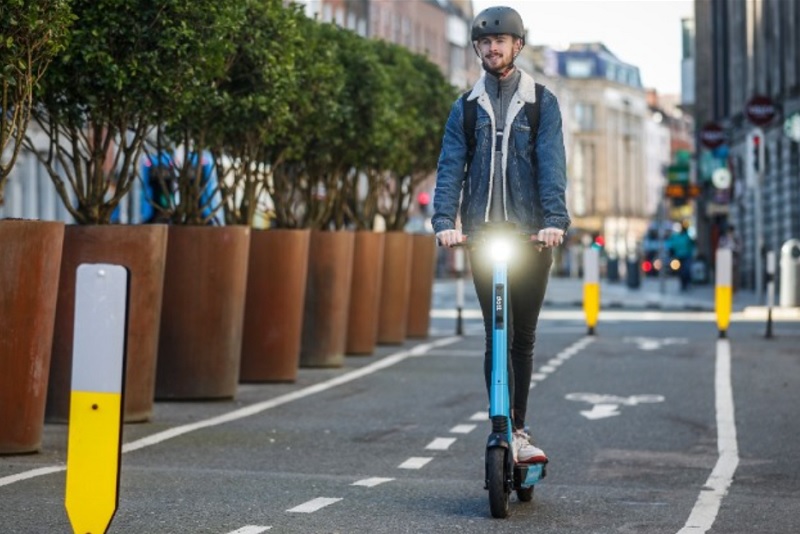 London's long-awaited trial of rental e-scooters will begin next month, with safety standards that 'go further' than those set out at a national level.
The 12-month trial will help to shape future policy on e-scooters, including whether they could form part of London's sustainable recovery from the Covid-19 pandemic.
The trial gets underway in a 'core group of boroughs', along with Canary Wharf and the City of London, on Monday 7 June – with more areas expected to join as it progresses.
It will be operated by three providers – Dott, Lime and TIER.
All three operators will be required to have various safety mechanisms in place, including 'first ride policies' where riders will need to take an e-learning safety course before they hire for the first time.
Will Norman, London's walking and cycling commissioner, said: "We want to ensure a green, sustainable recovery from coronavirus, and e-scooters are an alternative to cars that could help with this.
"The safety of those using e-scooters, as well as other road users and pedestrians, is absolutely paramount, so it's important that they are trialled in this rigorous way to ensure high standards.
"We look forward to exploring the role that e-scooters could play in London's future."
The road to London's rental e-scooter trials
The Government legalised trials of rental e-scooters in July 2020. They were fast-tracked in a bid to ease pressure on public transport during the Covid-19 pandemic.
To date, approximately 50 towns and cities across the UK have launched e-scooter rental schemes.
TfL says London is the 'biggest and most complex' environment for a rental e-scooter trial in the country – and that is has been working closely with the boroughs and a variety of different groups and stakeholders.
Following their legalisation, TfL and London Councils launched an 'open and competitive' procurement process for the planned trial of an e-scooter rental scheme in London.
Dott, Lime and TIER were appointed, having demonstrated their ability to 'meet strict safety requirements and high operating standards'.
TfL explains the safety standards required will 'go further than those set out at a national level', by requiring:
A lower maximum speed of 12.5mph
Lights at the front and the rear of the vehicles that are always on throughout any rental
Audible warning systems that can be used without adjusting the rider's grip of the handlebar
Helen Sharp, TfL's e-scooter trial lead, said: "Safety remains our number one priority and we will work closely with the  e-scooter operators, London Councils and the boroughs to ensure rigorous standards are consistently met.
"We will also continue to work closely with all of our stakeholders, including TfL's Independent Disability Advisory Group, to ensure that the trial meets the needs of everybody living in, working in and visiting the trial areas."
Where will the trials be taking place?
Initially, Ealing, Hammersmith and Fulham, Kensington and Chelsea and Richmond upon Thames – along with Canary Wharf and the City of London - will be participating in the trial fully by providing e-scooter parking.
In addition, Tower Hamlets is acting as 'ride-through' area, which users may travel through but not start or end e-scooter rides.
Between 60 and 150 e-scooters will be available to rent in each fully participating borough initially, with riders able to move freely across these boroughs and 'ride-through' areas.
Operators that demonstrate strong performance and compliance may be able to increase the number of e-scooters in their fleet over the course of the trial, while those that do not may be required to reduce their numbers.
The rental e-scooters will only be allowed to be used on roads and in cycleways – not on footways.
All operators will also be obliged to ensure that their rental prices take into account the needs of people on lower incomes and to offer discounts to certain groups where appropriate, including key workers.