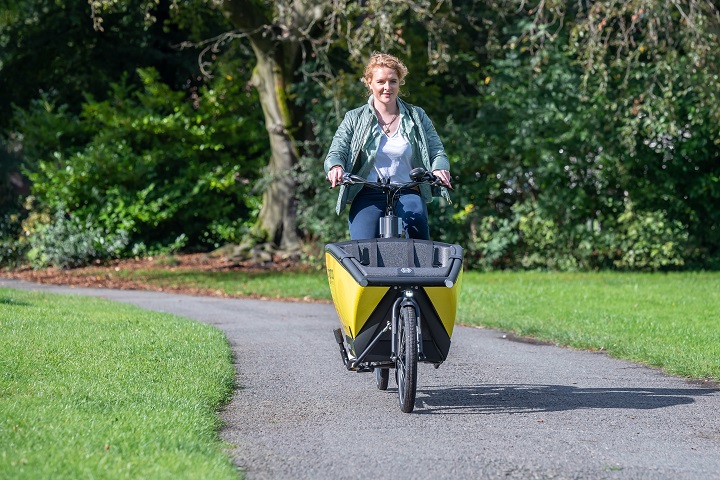 A new pilot scheme is set to give people in Greater Manchester access to electric cars and e-cargo bikes, as an alternative to private vehicles.
Described by Transport for Greater Manchester (TfGM) as ground-breaking, the year-long eHUBS trial has been launched on the back of research showing around a third of households in Greater Manchester don't have access to a car.
One element of the trial will offer residents in three areas the opportunity to hire electric cargo bikes.
The bikes have a large open compartment which can be used as storage or to carry children. The compartment is equipped with seats for the children, as well as safety belts and a protected foam layer.
The e-cargo bikes are available from dedicated bike parking bays in Chorlton, Whalley Range and Ancoats and have a battery range of around 60 miles. 
The app-based scheme is run by Cargoroo, which already runs similar services in the Netherlands and Belgium, and will be operated and maintained by local business, Manchester Bike Hire,
Meanwhile, a new electric car club, run by vehicle rental company Enterprise, has also launched as part of the eHUBS scheme. 
Currently located at East Didsbury Metrolink Park and Ride, further electric cars are set to go live in Chorlton, Bury town centre, Prestwich and Ancoats in early 2022. 
In total, 12 electric cars will be available to rent by the half-hour through the Enterprise Car Club app.
Andy Burnham, mayor of Greater Manchester, said: "It's testament to the work we are doing to better integrate sustainable modes of transport and make travel for people easier and greener.
"The eHUBS project opens up so many possibilities for people who either don't have a car or want to reduce their reliance on polluting vehicles and I would encourage local residents to give this a go.
"If successful we could see this rolled out more widely, which would help modernise the way we move around for everyday trips as well as reducing air pollution and contributing towards Greater Manchester's target of reaching net carbon neutrality by 2038."
---