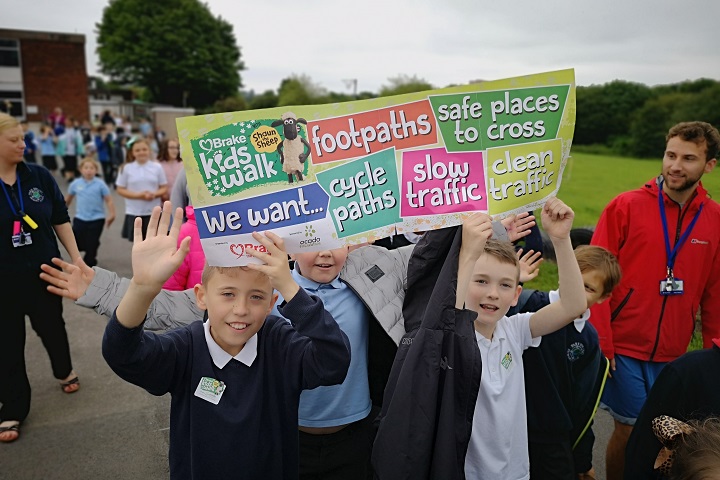 More than 50,000 pupils will take to the streets around their schools today (16 June) to raise awareness of the need for safer journeys.
The action has been co-ordinated by Brake as part of its Kids Walk campaign.
The children, from nearly 300 schools and nurseries, are calling for five measures to help keep them safe near roads: footpaths, cycle paths, safe places to cross, slow traffic and clean traffic.
As part of the event, short, supervised walks are taking place. Children will walk in a crocodile formation and hold hands to 'highlight the importance of being able to walk without fear or threat from traffic'. 
Some schools are teaming up with their local fire service or police force to raise awareness of local road safety issues.
Schools will also be running special road-safety-themed assemblies, lessons and fun activities, using free resources from Brake and featuring Shaun the Sheep and his friends. 
Resources are available to parents, carers and teachers to download for free. 
Latest Government figures show that 16,150 children were killed or injured on roads in the UK in 2019. Meanwhile, an average taken from the last five years gives a figure of 18,017. 
This means that, on average, 50 children die or suffer injuries as a result of road crashes every single day. 
Scott Williams, head of programme delivery at Brake, said: "It's every child's right to be able to walk in their community without fear of traffic and pollution. Throughout the pandemic families have taken to the streets on foot and by bike and we hope these activities will continue as restrictions lift and ordinary road traffic returns. 
"It is vital that children are able to walk safely in the places where they live. This year we hope to inspire as many children, schools and families as possible through our Brake's Kids Walk event."
---