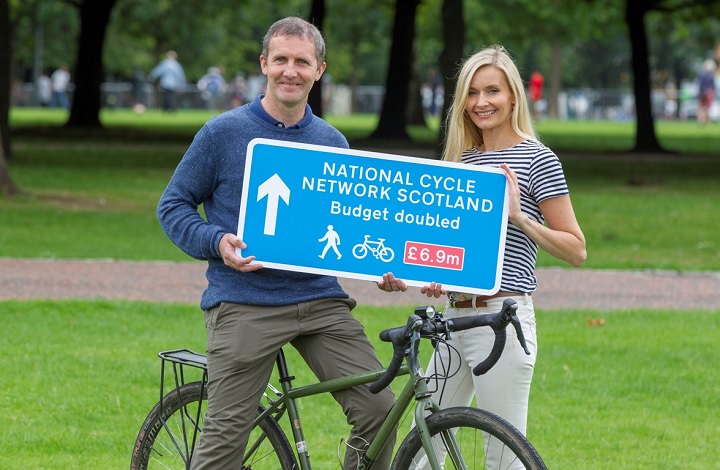 The Scottish Government and Northern Ireland's Department for Infrastructure have both announced funding to improve cycling infrastructure in the two countries.
The Scottish Government has pledged an extra £3.9m to develop the National Cycle Network in Scotland – bringing the total funding for 2018/19 to £6.9m.
Announced by Michael Matheson, Scotland's transport minister, on 10 August, the cash will fund a series of infrastructure improvements to 'make it easier and safer for people to walk and cycle across Scotland'.
Two of t most significant enhancements are the completion of the last two sections of the Caledonia Way (National Cycling Network Route 78) between Campbeltown and Inverness, and development of a new route between Doune and Callander.
The funding will also be used to complete the construction of Soldiers Bridge in Fort William and to enhance existing routes across central Scotland.
Michael Matheson said: "This (funding) will help make Scotland even more attractive for our growing cycle tourism sector which is contributing to our economy, particularly in rural areas.
"It will also help make active travel more appealing so people feel motivated to leave their car at home and go by bicycle or on foot for the benefit of their health and our environment, contributing towards our ambitions for an active nation."
Grace Martin, deputy director at Sustrans Scotland said: "The National Cycling Network is vital for every day journeys, leisure trips and tourism in Scotland.
"The Scottish Government's additional investment in the network highlights its commitment to creating a sustainable and active Scotland."
Eight projects across Northern Ireland will each receive an equal share of £200k to develop new infrastructure for cyclists and pedestrians.
Announced by Northern Ireland's Department for Infrastructure (DfI) and the Public Health Agency, the funding forms part of the Greenway programme which was launched in 2015.
The Greenway project aims to connect towns and cities to the villages and countryside by bringing back into use much of Northern Ireland's disused railway network. The long term aim of the project is to create a 1,000km network across Northern Ireland.
The eight successful Greenway projects are: Downpatrick to Newcastle, Downpatick to Comber, Doagh to Larne, Craigavon to Aghagallon, Portadown to Caledon (via Armagh), Portadown to Moy, Banbridge to Scarva, Ballymoney to Ballycastle.
Mary Black, assistant director for health improvement at the Public Health Agency, said: "Greenways provide opportunities for children and adults to incorporate walking and cycling into their everyday lives, whether for active travel, recreation or health.
"As many adults and children are not taking the recommended amounts of physical activity, enhancing the infrastructure to help everyone get more active is a positive step."
---