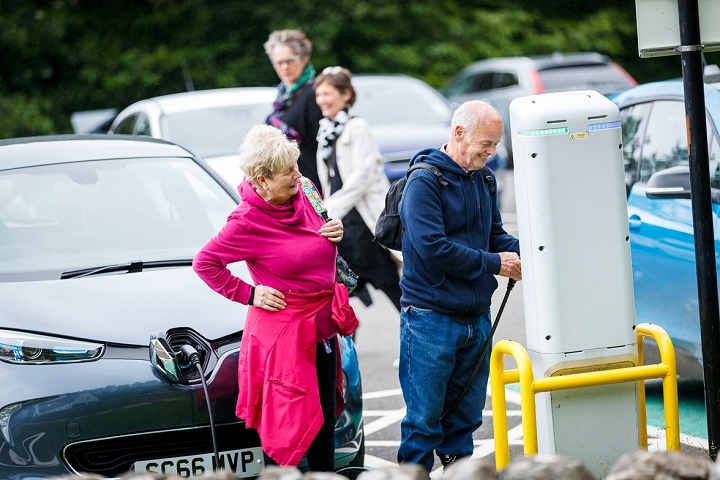 The number of people in Scotland willing to buy an electric car has risen for a second consecutive year, a new survey suggests.
Conducted annually since 1999, the Scottish Household Survey (SHS) samples views on personal travel, including motor vehicles, walking and cycling. The 2018 SHS received around 9,700 responses.
Nearly half (44%) said they would consider buying an electric car or van in the future, up from 41% in 2017 and 36% in 2016.
For people who had bought or would consider buying a plug-in electric vehicle, the main reasons were environmentally friendliness (68%) and fuel or running costs (58%).
On the flip side, 'range anxiety' was the main thing putting people off electric cars (46%), followed by the availability or convenience of charging points (41%).
The percentage of people who own an electric car has risen from 0.7% in 2017 to 1.8% in 2018.
Electric vehicles 'integral' for Scotland
The figures have been welcomed by the Scottish Government, who earlier this year said supporting the uptake of ultra-low emission vehicles is integral to the country's sustainable economic growth.
In June, it confirmed £20.6m to support the uptake of electric vehicles, through two programmes.
The 'Switched on Towns and Cities Challenge Fund' will receive £12.1m to support 'high impact activity' that incentivises, encourages and promotes the use of electric vehicles.
Meanwhile the 'Local Authority Installation Programme' will receive £8.5m to fill gaps in existing infrastructure provision in order to 'promote range confidence' for electric vehicle drivers.
Last month, Transport Scotland revealed there are now more than 1,000 publicly available electric vehicle charge points across the country.
Michael Matheson, cabinet secretary for transport, said: "The substantial increase in the number of households willing to consider buying an electric vehicle is welcome.
"The uptake of ultra-low emission vehicles central to our Energy Strategy, our Climate Change Plan and our goal of making Scotland's air quality the best in Europe."
Cars continue to dominate
Analysis of the trips that people made in 2018 found that over half of journeys in Scotland (53%) were made by car or van. 
Increasingly, drivers reported being alone in their vehicles, with the proportion of car trips that were 'single-occupant' rising from 56% in 1999 to 66% in 2018.
Walking was the next most popular mode of transport in 2018, accounting for 20% of journeys – although this has dropped from 26% in 2012. 
Cycling accounted for 1.4% of journeys – down slightly from 1.5% in 2017.
Michael Matheson added: "Walking, cycling and shared transport options are key parts of our future vision and we expect to see user rates improve as new infrastructure comes online.
"This will make active travel a more attractive option than the car for shorter trips and as part of a public transport journey, encouraging modal shift and improving health and well-being in the process."
---