Scotland's most iconic motorcycle routes are playing a starring role in a new campaign that aims to reduce deaths on the country's roads this summer.
'Epic' coastal rides, 'sweeping' mountain journeys and 'stunning' forest trails all feature in the series of 'Breathtaking Roads' videos launched earlier this year.
Using drones, the short films were filmed on three different biking routes, with each one ending with the strapline: 'Be aware on breathtaking roads. Don't let them take your breath away for good'.
But as well as the 'gorgeous' scenery, the campaign from the Scottish Government and Road Safety Scotland focuses on improving everyday riding skills – rather than just highlighting dangers.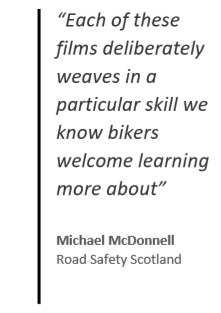 Michael McDonnell, director, Road Safety Scotland, said: "Each of these films deliberately weaves in a particular skill we know bikers welcome learning more about.
"These skills are the ones statistics show are typically most challenging, such as overtaking, left and right-hand bends and junctions."
Running until the end of September, the campaign has a strong social media presence, with viewers being directed to the Live Fast Die Old Facebook page, or the Don't Risk It website.
The campaign is also being supported by outdoor advertising at popular meet-up spots along the routes themselves, while local biking ambassadors and influencers are sharing the message.
Once the campaign has finished, independent evaluation will measure awareness, recall of best rider practices and claimed behaviour change. Social media engagement, click-through rates, Google analytics and Police Scotland incident statistics will also be used to measure its impact.
Elizabeth Rockley, senior marketing manager at Safer Scotland, said: "We're particularly targeting those bikers who take a break during winter, then go out again between Easter weekend and the end of September.
"Because they haven't been out on their bikes for a few months, there's maybe a bit of a skills gap they need to close as the season starts.
"We're very much looking to generate a two-way conversation with bikers and getting them to share their best skills tips too."
The campaign is also backed by Police Scotland and a number of Scottish biking groups, and targets the most at-risk group – male bikers aged 40-54 years.
Inspector Ian Paul, who leads Police Scotland's national motorcycle unit, said: "At this time of year many bikers are planning weekend ride outs and trips with their friends, to enjoy the magnificent scenery Scotland has to offer.
"We understand the thrill of motorcycling and why people want to do it, but we also want bikers to keep themselves safe especially when overtaking, approaching junctions and negotiating bends.
"This campaign encourages the biking community to enjoy Scotland's roads, while following best practice too."
---