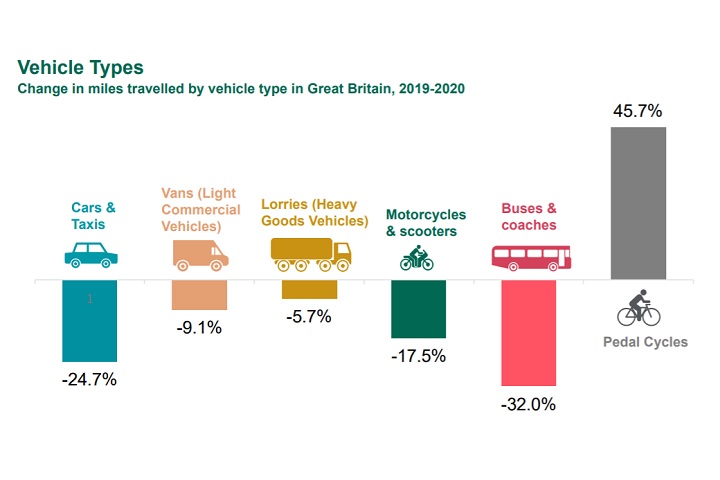 The number of miles cycled on Great Britain's roads and cycle paths rose to its highest level for more than 50 years in 2020, new Government statistics show.
Pedal cycles travelled 5.0 billion miles last year, according to the data, 45.7% further than in 2019.
The Government says it is the highest level of cycling on the public highway since the 1960s.
The statistics report activity of cyclists on public highways, and on cycle paths and footpaths adjacent to them. Cycle activity elsewhere (for example on canal towpaths, byways or bridleways) is not included.
Cycling saw its highest monthly levels in 2020 during April and May, following lockdown measures legally coming into force on 23 March. 
The stats for April and May 2020 were 73% and 75% higher than their levels in the equivalent months in 2019, respectively. 
2020 monthly cycling levels remained above the equivalent 2019 figures until October – when the Government notes that cycling levels are likely to be influenced by the weather.
In terms of road type, cycling traffic on minor roads saw the biggest increase, rising by 51.8% when compared to 2019. Traffic on 'A' roads increased by 18.8%.
Meanwhile, as anticipated, the figures also show all motor vehicle types saw a decrease in traffic levels during 2020.
In total, 280.5 billion vehicle miles were driven on Great Britain's roads in 2020, a decrease of 21.3% compared to the previous year.
Car and bus traffic were most heavily impacted, decreasing by 24.7% and 32.0% respectively. Although van and lorry traffic experienced a smaller fall in vehicle miles, they still saw decreases of 9.1% and 5.7%, respectively.
April 2020 – during the stay home period – was the month which saw the largest fall in traffic, 63% lower than April 2019.
As the restrictions started to ease, the monthly traffic levels increased gradually to September 2020, when they were 11% lower than September 2019. 
Subsequent lockdowns and restrictions led to lower traffic levels in October-December when compared to the equivalent months in 2019.
---