Traffic congestion is the top concern of UK motorists in 2018, while drivers using social media on the move is seen as the biggest risk to personal safety, according to a new survey.
Published on 15 November, IAM RoadSmart's fourth annual Safety Culture Survey canvassed the views of more than 2,000 drivers about their worries, fears and attitudes.
More than three-quarters (76%) of those surveyed said that congestion is a bigger problem than three years ago, followed by mobile phone usage (73%).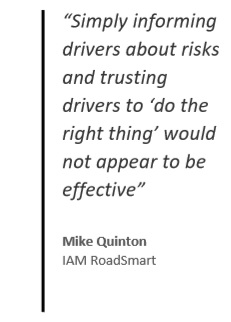 The third biggest concern was aggressive drivers, which more than a third (68%) of respondents said was a bigger problem than in 2015.
However when asked what motorists feel is 'a serious threat' to their safety while driving, drivers checking or updating their social media or texting ranked first, with 93%.
Other major concerns were people driving after using illegal drugs (91%) and after drinking alcohol (90%), drivers speeding on residential streets (89%), talking on mobile phones (89%) and ignoring red lights (88%).
In terms of drivers' attitudes, 48% of respondents said driving at 10mph over the limit on a motorway was acceptable, while 45% believe it is 'alright' to talk on a hands-free mobile phone.
23% of respondents said they were willing to drive at five miles an hour over the limit in a residential street, 11% said they would drive without a seatbelt and 9% said they would drive at 5mph over the limit near a school.
Talking about their own bad habits, 5% admitted they regularly talked on a mobile phone while driving, with 4% confessing to have regularly driven while feeling drowsy or tired.
When asked what traffic police should make a top priority, drink and drug driving was significantly the biggest choice (59%), followed by drivers using hand-held mobile phones (12%) and speeding on local roads (10%).
Mike Quinton, IAM RoadSmart chief executive officer, said: "UK drivers still have many worries when it comes to daily life on the road and there is ample time to think about them, considering the time they are spending in traffic jams.
"They still find the smartphone culture dangerous when mixed with the job of driving a car. Our ever busier roads need every drivers' full attention if we are to make them safer for everyone and it's clear those who responded to this survey recognise the extent to which mobile phones can distract a driver.
"However, despite recognising the risks, we have tracked drivers' attitudes for four years now and it is clear that they are not shifting. Simply informing drivers about risks and trusting drivers to 'do the right thing' would not appear to be effective.
"There is a high level of support for stronger sanctions and more high profile policing, to ensure that the fear of being caught is a reality."
---