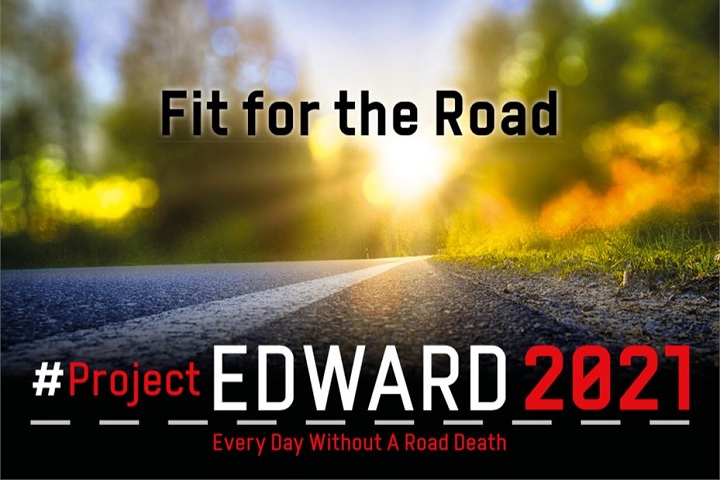 The 2021 edition of Project EDWARD will take place between 13-17 September, under the theme 'Fit for the Road'.
Project EDWARD (Every Day Without A Road Death) is an annual road safety campaign, which began life in 2016. Since then, it has become a powerful and popular awareness-raiser.
This year, Project EDWARD is supported by the DfT, Highways England, the National Police Chiefs Council, the National Fire Chiefs Council and a large number of police forces, fire and rescue organisations, policy making groups and businesses.
The campaign aims to provide a platform that showcases some of the best work being done around the country to promote the five pillars of the safe system approach:
Safe Vehicles

Safe Road Use

Safe Speed

Safe Roads and Roadsides

Post Crash Care
The theme for 2021 is Fit for the Road, with a week of action taking place between 13-17 September.
On 4 June, 100 days before the event, a new website will go live – alongside the first episode of a new 'Fit for the Road' podcast. Fortnightly episodes will follow until December.
Project EDWARD 2021 is being sponsored by Norfolk-based road safety technology firm Westcotec.
Chris Spinks, Westcotec managing director, said: "We have been supporters of Project EDWARD since its launch in 2016, and a financial sponsor since 2017. 
"Each year we have seen the initiative grow. We love the energy of the EDWARD team and we are very pleased and proud to have secured a place among the top three sponsoring organisations for 2021.
"EDWARD remains the one initiative that really consolidates efforts right across the sector – from government, highways authorities, police, fire and road safety organisations through to business fleets, local commerce, victims' associations and individuals.
"We are excited to continue as an enthusiastic supporter of Project EDWARD and we will do our best to promote its key themes as soon as the countdown to this year's activity begins on 4 June."
---