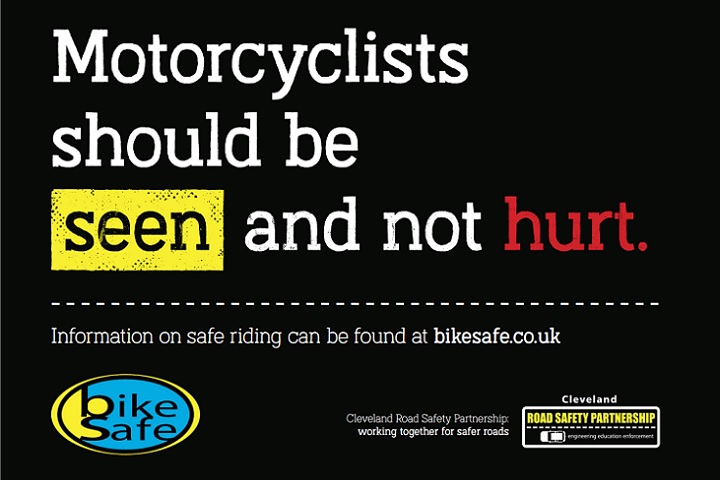 The Cleveland Road Safety Partnership is getting behind a national campaign aimed at improving road safety for motorcyclists. 
Co-ordinated by the National Fire Chiefs Council (NFCC), Think Bike Week gets underway today (23 April) and sets out to highlight key safety messages, including the importance of bike maintenance and wearing the correct gear. 
Riders are also being encouraged to 'brush up' their riding skills at a time when many will be returning to riding after a significant break.
The campaign is being supported by the Cleveland Road Safety Partnership, who will be using social media to highlight how to make the roads safer for those on two wheels.
The partnership's aim is to raise awareness among both motorcyclists and drivers – with two key messages:
Drivers: lookout for motorcyclists, especially at junctions

Motorcyclists: manage your risk by reducing your speed and attend advanced training
Statistics show that motorcyclists are overrepresented in road traffic collisions and in Cleveland, there were five motorcyclist fatalities and 52 injuries during 2020. 
Andrew Corcoran, chair of Cleveland's Strategic Road Safety Partnership, said: "Despite accounting for only around 1% of traffic in Cleveland, motorcyclists account for 23% of fatalities on our local highway network. 
"In the last five years there have been 284 motorcyclists injured, including 12 killed and 140 seriously injured. The main reasons for motorcyclist collisions are 'failure to look' either from the motorcyclist or the other road user, and speed, in the fatal collisions."
---