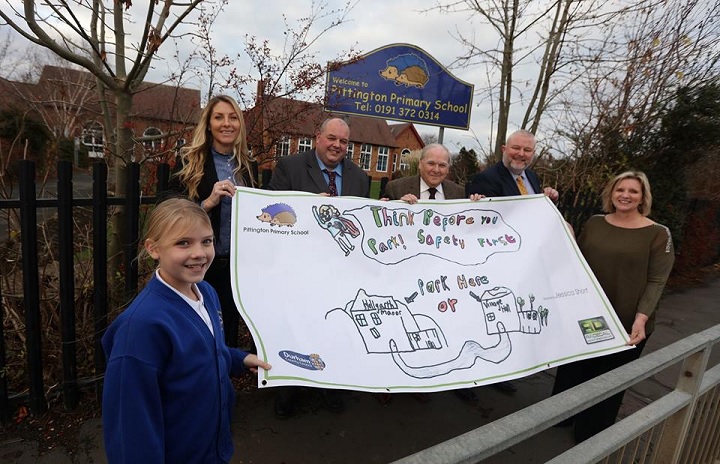 Jessica Short, a Year 6 pupil, from Pittington Primary School, is the first place winner of the design a school gate sign competition, which was organised by the road safety team.
The winning school has now had Jessica's artwork manufactured into a sign that will be displayed on the school gates. It is hoped the sign will address the problem of school gate parking and deter drivers from parking illegally, inconsiderately or dangerously. The school was also presented with a £1,000 voucher to spend on signs at Radecal Signs and Graphics Ltd at Schools 4 U, which dontated the prizes.
Cllr Brian Stephens, our Cabinet member for neighbourhoods and local partnerships, said: "We had so many fantastic entries and would like to say well done to everyone for showing an interest in the safety of their schools.
"We hear regularly from concerned parents, teachers and local residents about the problems that irresponsible school gate parking can cause so we're hoping these creative signs will make people think twice. Jessica's design is encouraging people to park further from the school and walk the short distance, making it safer."
Schools were encouraged to hold their own competition to design a school gate parking sign and submit their winning design to the road safety team to enter the inter-schools competition. Entries were submitted by 43 schools across the county and the winners were then chosen by a panel of judges.
Second place went to Bearpark Primary School who will receive their sign and a £500 voucher to spend on signs and third place went to Seaham Trinity Primary School who will also receive a sign and £250 voucher. The first place secondary school winner was Dene Community School in Peterlee who will be presented with their sign and a £1,000 voucher.
There were also ten runners up who will have their artwork created into a school gate sign.
---