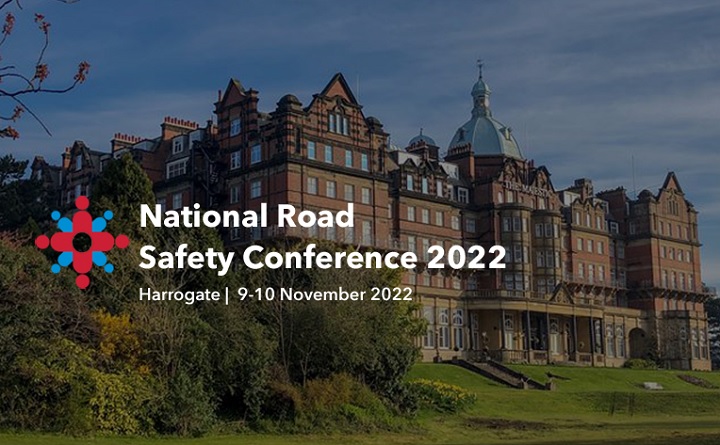 Organisers of the 2022 National Road Safety Conference have published a timed agenda for both the main and fringe programmes.
The National Road Safety Conference, Road Safety GB's flagship event, has not been held as a live conference since 2019, but returns later this year at The Majestic Hotel in Harrogate on 9-10 November.
Delegate registration is open, with a special rate for Road Safety GB and Academy members. Full/residential and day delegate packages are available, as is the opportunity to book accommodation on the evening prior to the conference (8 Nov).
The main programme gets underway at 11:00 on 9 November, with three keynote presentations from Road Safety GB, the DfT and the THINK! team.
This will be followed at midday by an hour-long session (12:00 – 13:00) looking at some of the current, recently published and ongoing road safety related research studies being undertaken by academics and others from across the UK.
Following a lunch break, the nain programme continues with sessions titled 'Influencing road user behaviour' (14:00 – 14:45) and 'What's on the horizon?' (14:45 – 15:45).
The latter features four presentations looking at emerging road safety issues likely to impact on road safety professionals going forward, covering e-scooters, dash cams and the use of AI technology.
Day one concludes with the popular 'Speed dating' session (16.15 – 17.15) – made up of a series of quick-fire presentations by road safety practitioners and others outlining schemes, interventions and concepts they have, or are currently, implementing.
The second day (10 November) gets underway with a session titled 'The road to Vision Zero & the Safe System Approach' (9:00 – 10:15).
This session comprises four presentations from practitioners already using the Safe System approach. They will provide tips, guidance and advice that will prove useful for others about to embark on the Vision Zero journey and adopt a Safe System approach.
This is followed by 'Topical topics' (10:15 – 11:30) and Question Time (12:00 – 13:00).
The two-day event draws to a close with a series of optional workshops (14:00 – 15:30 latest), which delegates will be invited to pre-register to attend.
Over on the Fringe
The fringe programme will run concurrently with the main agenda, and delegates are free to move between the two. The fringe room is smaller and fringe presentations typically attract an audience of between 20-50 delegates.
The first Fringe session takes place on day one (9 Nov) between 14:00 – 15:45.
Day two's session (10 Nov) is being held between 9:00 – 10:15.
For more information about the agenda, please contact Nick Rawlings by email, or for delegate registration contact Sally Bartrum by email.
---