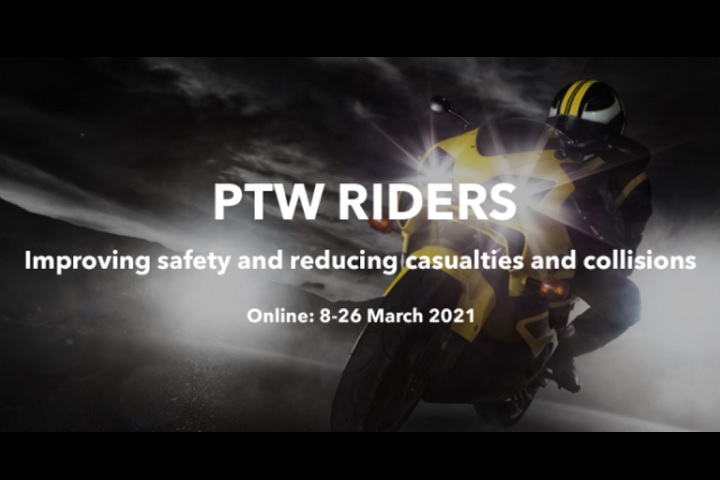 With less than a month to go until the start of its online PTW rider safety event, Road Safety GB has published a timed agenda.
The online event, titled 'PTW Riders: improving safety and reducing collisions and casualties', replaces a conference of the same name which has been cancelled because of the Covid-19 pandemic.
The PTW Riders' event will be aired free-to-all during March 2021, commencing Monday 8 March, and will follow a similar format to the Festival of Road Safety which attracted more than 8,000 visits from road safety professionals and others during November 2020.
The programme will comprise a series of pre-recorded video presentations (published at 10am each day), as well as a live discussion session, workshop and podcast.
Opening the event on 8 March will be professor Alex Stedmon (founder and director of Open Road Simulation) – a global expert in transport research investigating driver behaviour and driver psychology.
Professor Stedmon's presentation will unveil the findings of a unique research programme into casualty reduction – as part of which a series of innovative road markings were designed and trialled in Scotland in order to 'prime' rider behaviour on approach to demanding bends.
Week one will also feature a Question Time session – which takes place at 11am on Tuesday 11 March.
The panellists for the session – registration for which will open later this month – are:
Karen Cole, director of safety and training, MCIA
Dr Cris Burgess, senior lecturer in psychology, University of Exeter
Colin Brown, director of campaigns and political engagement, MAG
Iain Temperton, Traject Road Safety Specialist
Among the highlights of week two is a presentation from Neil Greig, policy and research director, IAM RoadSmart.
Neil will present the findings of a research programme to evaluate advanced riding, which looked at attitudes to safety, riding behaviour, self-reported incident history and speed choices in a range of road scenarios.
Week three features a workshop facilitated by Saul Jeavons, director of The Transafe Network and scheduled for Wednesday 24 March (2pm).
During the workshop, Saul will outline to attendees how make sure interventions hit their intended target – explaining why using STATS19 data to target motorcyclists for education, training and publicity isn't very effective.
Registration for the workshop will open later this month.
Interested in participating?
There is still time for others to express interest in delivering a presentation during the event. To do so please contact Edward Seaman by email, providing a brief overview of the proposed presentation and a brief speaker biog.
There is also an opportunity to support the PTW Riders' event through sponsorship. For more details contact Nick Rawlings by email or on 01379 650112.
Finally, click here to receive regular email alerts in the run up to and during the event.
All dates and times are subject to final confirmation.
---