Highways England traffic officers will go back to school in Cornwall next week to deliver road safety messages to local children.
The traffic officers, who have been patrolling the A30 – a busy holiday route – as part of a summer-long initiative, are visiting Blackwater Community Primary School, Chacewater Community Primary School and Goonhavern Primary School on 19-20 September.
The children will talk to the traffic officers about their jobs and see their patrol vehicle and equipment used every day.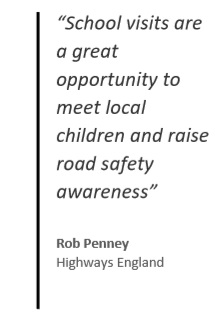 Rob Penney, south west service delivery manager for Highways England, said: "The patrols have been really well received by both holiday makers and local residents.
"Following this initial trial period, the school visits are a great opportunity to meet local children and raise road safety awareness among this young audience."
The highways awareness days will launch a longer-term STEAM (Science, Technology, Engineering, Arts and Maths) initiative run by Highways England's A30 Chiverton to Carland Cross project team.
The initiative, which will run from October, is designed to engage children from four to 18 years in 'fun, hands-on activities' which will teach them about the road safety work taking place as part of the A30 dualling scheme.
Josh Hodder, project manager of the A30 Chiverton to Carland Cross scheme, said: "The traffic officers have had a great reception and we look forward to working with local schools to teach them more about the STEAM project and our work on the scheme."
During the summer holidays, Highways England crews attended a total of 134 incidents on the A30, including live lane breakdowns, road traffic collisions and debris clearance.
---