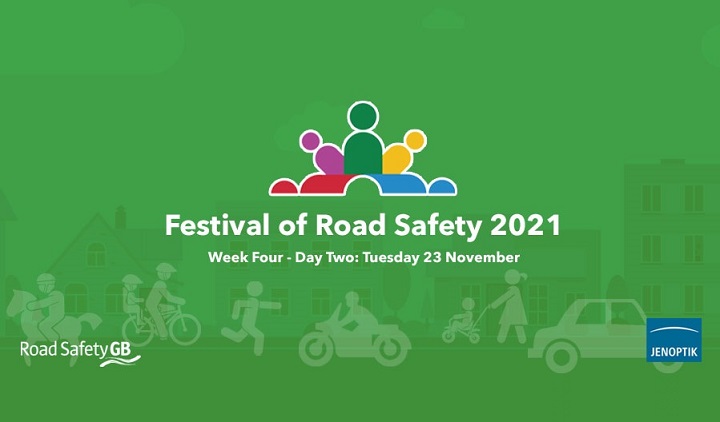 Today's Festival of Road Safety offering is a triple-header of presentations – including a keynote from National Highways focusing on driving and riding safely for work.
The presentation, which can be viewed via the Festival website, focuses on corporate responsibility in reducing risk on the roads. 
It looks at the challenges for employers in managing their driving for work activities, and answers what National Highways and their partners are doing to improve safety, efficiency, sustainability and compliance in work-related road risk.
The presentation is jointly delivered by Mark Cartwright, head of commercial vehicle incident prevention at National Highways, and Simon Turner, campaign manager, Driving for Better Business.
The second of the day's three presentations is delivered by David Walker, head of leisure and road safety at RoSPA.
This talk explores the pilot phase of Cycle Smart Brum: a challenge project that sought to identify and understand in near time the hazards cyclists face, and to predict at scale when and where cyclists faced the most risk. 
The project comprised large scale data collection, an AI model and over 200 Birmingham cyclists to bring new and quantified insights into Birmingham riders experiences.
And finally, Lorna Lee (AA Charitable Trust) and Brian Lawton (Road Safety Foundation) look at the issue of young drivers and rural roads.
This presentation provides an introduction and overview of the AA Charitable Trust's latest campaign, Young Rural Drivers, which was based on bespoke research from Agilysis and the Road Safety Foundation, and funded by the Road Safety Trust.
The research formed the background for an interactive map highlighting the riskiest rural roads for young drivers. A high-profile media campaign ensured the campaign's message reached its desired audience.
Sign-up now for live sessions
The final week of the Festival also features two live sessions – for which registration remains open.
Wednesday 24 November (10.00 – 11.00)
How road safety partnerships can fully embrace the Safe System approach and make it stick!
Tanya Fosdick (Agilysis) and Iain Temperton (Traject Road Safety Specialist) have worked with a number of road safety partnerships around the country, reviewing structure, strategy, delivery and evaluation regimes, whilst introducing international best practice concepts including Vision Zero and Safe Systems. Based on their experiences, this presentation will provide a unique insight into the current UK road safety landscape.
More info
Click here to register
Thursday 25 November (12.30 – 17.00)
SHARP 2025 roundtable: Advancing motorcycle helmet safety information for riders
The DfT's Safety Helmet Assessment and Rating Programme (SHARP) scheme provides PTW riders with information about the relative safety of their helmets. To ensure the SHARP scheme remains at the forefront of rider safety, the DfT has recognised the need to update the SHARP scheme with the latest advances in evidence-based research. This roundtable will provide attendees with an opportunity to learn about and deliberate on the evidence base behind the opportunities to update the SHARP test and rating protocols.
More info
Click here to register
Catch up on Weeks 1, 2 & 3
All of the content from the first three weeks is available to view free of charge on the Festival website. The programme for week 4 can also be found on the website.
The 2021 Festival of Road Safety is being organised by Road Safety GB and sponsored by Jenoptik. For more information contact either Nick Rawlings or Edward Seaman by email or on 01379 650112.
---