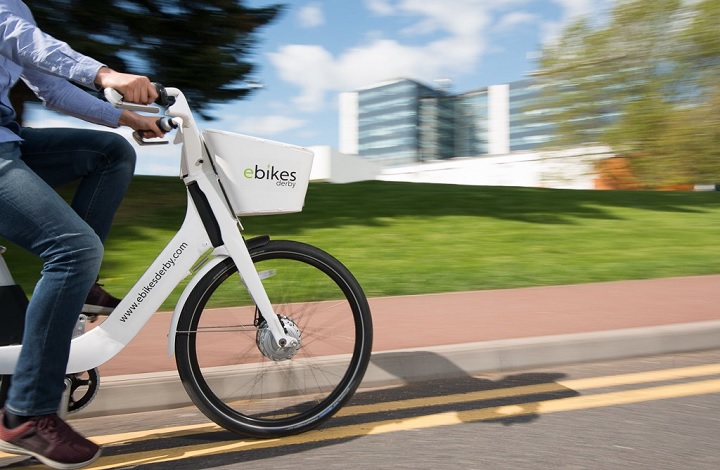 The UK's largest electric bikeshare scheme – comprising 200 ebikes – is now operational in Derby.
Launched on 28 June, the new scheme uses 'state-of-the-art' ebikes, provided through the US-based electric bicycle sharing system Social Bicycles, which according to Derby City Council, are only currently being used in New York and San Francisco.
The ebikes are available at 30 locations across the city including the Rolls-Royce premises, the town's railway station, Derby Arena and the Royal Derby Hospital.
Plans for the bikeshare were first revealed by Derby City Council last year, after the authority was awarded a £450k grant via a sustainable transport competition. The University of Derby then came on board as a key partner, contributing £100k to the scheme's running costs.
Managed by UK bike hire operator Hourbike, customers pay 3p per minute to ride the ebikes – with a minimum charge of £1 per rental. There is a maximum daily charge of £12 and customers can pre-load credit onto their account.
Before accessing the ebikes, customers must sign up through the Social Bicycles app or via the eBikes Derby website.
Cllr Jonathan Smale, cabinet member for neighbourhoods and public protection, Derby City Council, said: "Cycle hire schemes bring many benefits to a city, for residents, students, workers and visitors.
"It provides a viable transport alternative that will not only help to mitigate the impacts of poor air quality, and growing levels of congestion across the city, but also improve people's health and fitness levels.  
"I encourage everyone to come and see first hand just how easy it is to get around the city on the electric bikes and the benefits of joining the scheme".
Professor Kathryn Mitchell, vice-chancellor of the University of Derby, said: "The new scheme is great news for the city and a fantastic opportunity for our students and staff to leave their car keys at home and get out and about on a bike to cycle across campus sites in the city.
"As well as reaping the health and well-being benefits of exercising in the fresh air, it will also lead to cost-savings and better air quality for the city too."
---